It's a Woman's Art World!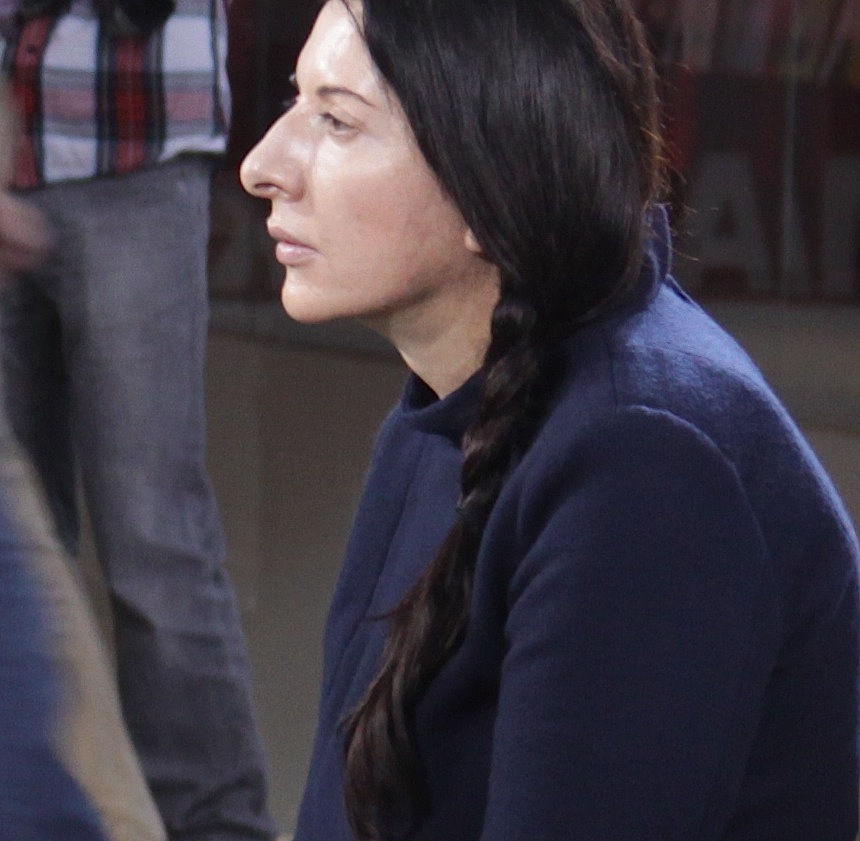 image: Marina Abramovic at the MoMA in 2010, Shelby Lessig
Around the world, women artists and art shapers are making their presence known. Marina Abramovic made this clear during her major retrospective at the Museum of Modern Art, when she undertook the biggest performance piece in the history of MoMA, "The Artist is Present".  It was a 736.5 hour performance where she sat in silent stillness, whilst viewers were invited to in turn sit opposite her. It was also at MoMA that in 2011 a female curator rehung the galleries to provide more visibility and focus to under recognized women artists.
Venice Biennale 2011
In 2011, the Venice Biennale, curated by a woman, Bice Curiger, who is also the curator of Zurich Kunsthaus and editor-in-chief of well respected art journal Parkett, which she co-founded in 1984 along with being publishing director of TATE ETC., published by the Tate Museum, Britain.
Sophie Calle brought the presence of women to the Venice Biennale.  In the words of yet another influential woman, Iwona Blazwick , Director of Whitechapel Gallery, London, "Sophie Calle made the French Pavilion a monument to 107 female professionals, ranging from dancers to judges, who were commissioned to respond to a letter of rejection from the artist's lover –  their work is a tribute both to their creativity and to the alchemy that transforms raw emotion into art."
Giving birth to Art
Perhaps one of the most uniquely female performances yet given by an artist was that by artist Marni Kotak. Not without controversy, she gave birth to her baby inside a gallery. Who was it that said "Well-behaved women rarely make history"? History was made with her story.
Australia shines the spotlight on women artists
In Australia at QAGoMA Queensland Art Gallery | Gallery of Modern Art, a feature exhibition was staged this year, 'Contemporary Australia: Women', curated by Julie Ewington, celebrating "the diversity, energy and innovation of contemporary women artists working in this country today". In particular the exhibition recognised the strong history of women artists and how their "provocative, unexpected and illuminating contributions have reshaped, and continue to shape, the landscape of contemporary art."
The exhibition, 'Contemporary Australia: Women', included the work of artist Fiona Hall, who in March of 2012 was awarded with the Australia Council's highest honour, The Visual Arts Laureate Award, for her significant contributions to the development of Australian Art over a career spanning four decades.  Hall's work is represented in every major public art collection in Australia, a body of work, photographic and sculptural, which speaks elegantly and intriguingly about the impact of humanity on the natural environment, especially in consideration of the after-effects of colonialism and global trade.
In the words of performance and video artist Anastasia Klose, who in 2011 staged a performance at the Venice Biennale Vernissage as part of ACCA's pop-up program :
I decided to do a dance with Mum at Southland to Olivia Newton-John's song 'Magic'. The dance would capture exactly how it feels to be an artist: when everything falls to shit, you still have to believe you're magic.
Klose will be featured in the upcoming "Primavera 2012" at the Sydney Museum of Contemporary Art (MCA),  from Oct 4 – Dec 2.
---
---