Art curators list top contemporary artists
Art world Women joined in on this weeks "Ask a Curator Day" on September 19th, a global Twitter event, where art curators from museums and art galleries around the world were on hand tweeting til their fingers burned. It was quite an event with #askacurator trending on Twitter throughout the day.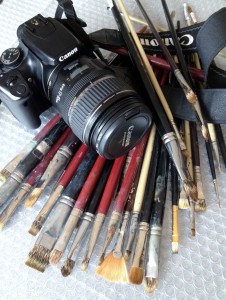 At Art World Women we were curious to find out which women artists were front of mind for art curators. Which contemporary women artists are making an impact?
So we asked a few questions including: "Who are your top 5 contemporary women artists?" and, "Who would you choose as your top 5 most influential contemporary women artists?". We also asked "What's your personal favourite work by a woman artist in the collection? Why" the answers to which you can read about here very soon.
Responses came though from the curators of many art museums and art galleries including Tate Britain, Rijksmuseum, SFMOMA, J. Paul Getty Museum, National Galleries (Scotland), Herbert Art Gallery Coventry, Museum Rotterdam, Museum of Liverpool, Heide MoMA and the National Gallery of Australia.
Here's a list of the most influential contemporary women artists, in no particular order as nominated by curators from around the world. It is by no means a complete list or set in stone, for as in the spirit of the tweet of a curator at National Galleries (Scotland), "Ask me tomorrow & it could be different." What is interesting to note is that with such a barrage of questions coming through to curators, these are the names of women artists who floated to the surface with significance and prominence.
Louise Bourgeois * (Dec 25, 1911 – May 31, 2010)
Cindy Sherman
Tracey Emin
Rachel Whiteread
Mona Hatoum
Bridget Riley
Karla Black
Marina Abramovic
Tacita Dean
Sarah Lucas
Elizabeth Price
Cathy Wilkes
It is quite interesting to observe from the work of the women artists included in this list that photographers, video artists, performance artists and those who work across experimental media including installations artists have prominence. Amongst the list, which includes a good sprinkling of YBA's, just one painter, Bridget Riley, one of the foremost proponents of Op art.
Perhaps Australian artist Simryn Gill says it best:
I think medium is beside the point. I'm quite sure I do the same thing in different materials.
Simryn Gill is a Sydney-based artist, who like the prominent artists selected in the above list, works across multiple media, in particluar video art, photography and installation art. Gill has been selected to represent Australia as the the sole artist exhibiting at the Australian Pavilion at the 55th International Art Exhibition of the Venice Biennale 2013.
Do you agree with the Art World Women's #AskACurator list ? If not, who would you choose as the leading contemporary women artists?
Follow Art World Women on Twitter and join the conversation.
*"Contemporary artist" as you can see from the suggested list, includes those artists living and dead with the broader connotation of their art being contemporary to us.
---
---