Inspector Sorrow, White Dresses and Angry Underwear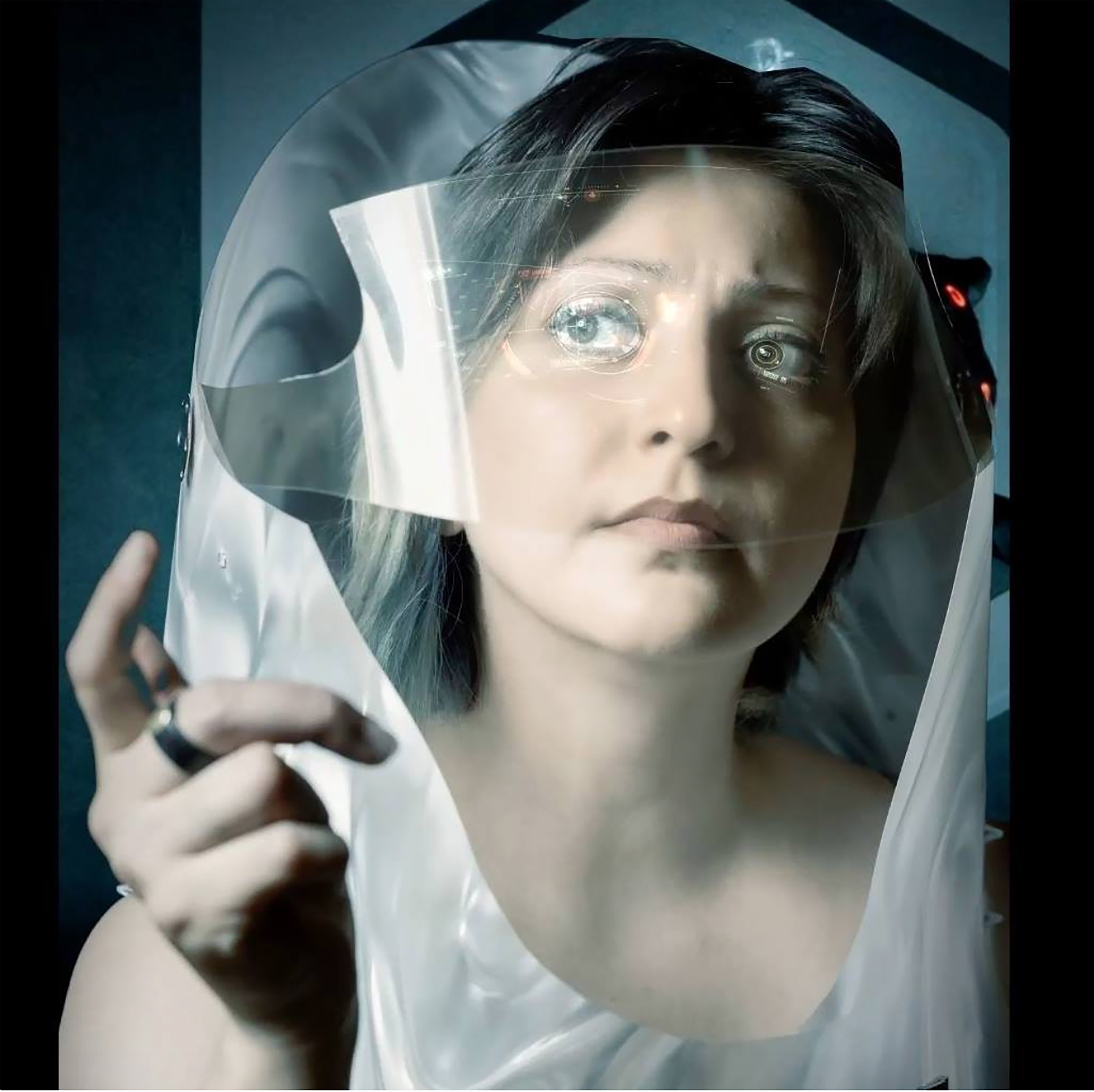 Inspector Sorrow
In this new body of work, Sharifzadeh showcases the ephemera of an imagined film, a detective story entangled in quantum-level simulations. The viewer is drawn into this complex narrative – in the future and the present, via a psychotic break or a manipulation of a criminal mastermind, fragmented into video, storyboards soundscapes props and faint whispers on an ancient telephone.
Sharifzadeh has built her body of work transforming her painstakingly made stop-motion films into immersive installations. The audience literally walks into her films, surrounded by objects built into and drawn from the film. In Inspector  Sorrow, she extends this language into an exploration of the vocabulary of filmmaking itself – particularly the noir and detective stories she is obsessed with- as well as integrating interactive and digital components into her work for the first time. The result is disorienting, emotive, and quite intentionally, mysterious.
In 2253, the super-rich of today are still in power, having transformed themselves into post-human Eternals. Inspector Sorrow is a detective in charge of policing the chaos outside their oases of wealth and privilege, rarely even in contact with the Eternals.
The trip to the dentist was a trap. Alice had a device planted – a tiny cube- in Inspector Sorrow's head, a device that copied her consciousness into a quantum level synthetic world. That is where they both are. Alice is using this copy of the real Sorrow to hone the perfect crime, the murder of the Eternal. It hasn't happened in the real world. It won't happen until she is able to fool Sorrow.
In Sharifzadeh's words, "My intention was to mix the Sci-fi genre with the Aesthetics of noir. My protagonist is a Femme Fatale by the name of Alice Wallman out of 40s and 50s noir films juxtaposed in the future of 2253. She is using the futuristic tools of virtual reality, advanced bio-tech possibilities and the multiple universe laws to remain in power and fool inspector sorrow". A cat and mouse chase between inspector sorrow and Alice.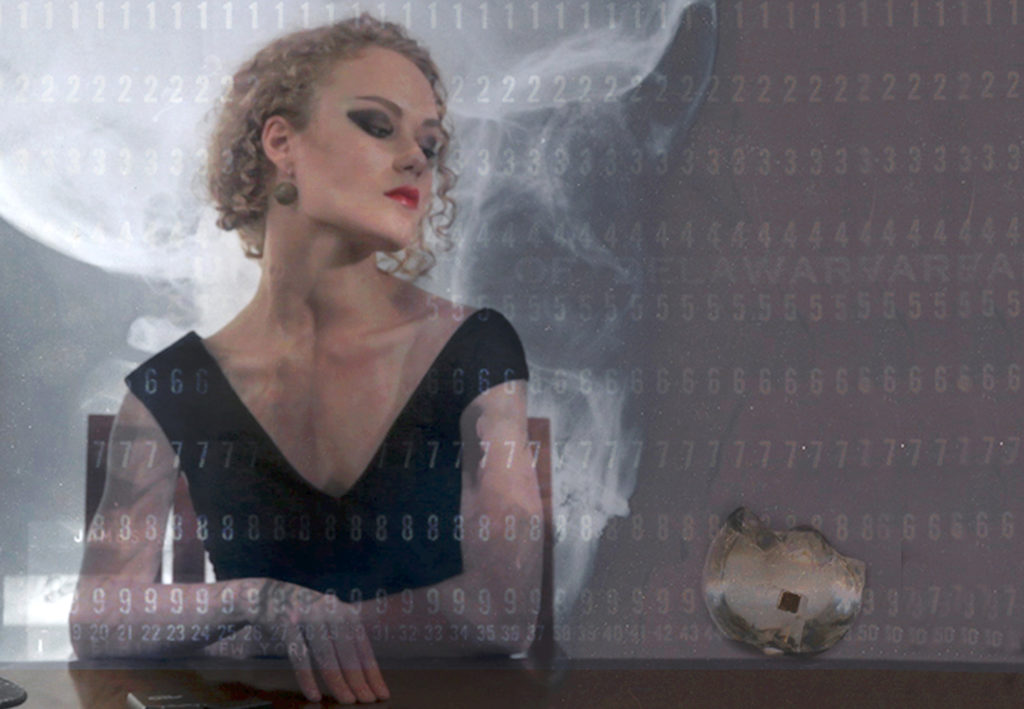 Like other works of science fiction, Inspector Sorrow's connection to the past and present generates meaning and creates an atmosphere in which one can benefit from being an outsider to the fictional future, to reflect on the nonfictional present. The story takes place in the future of 2253, where bio-tech has turned the 1% into undying Eternals, whose unending lives are ever more removed from the fully human proletariat. "I projected myself to this fiction through the Sorrow being my alter-ego. The sci-fi genre allows me to criticize contemporary socio-economical reality" Negin says.
Negin Sharifzadeh is a cross disciplinary artist and storyteller based in Brooklyn, New York. Having grown up in Iran in the wake of revolution, she is fascinated by the mechanisms and interplay of different natural, socio-emotional and political systems. She has explored these themes through the mediums of sculpture, stop- motion animation, interactive design and more recently live action short films. Both her artwork and her curatorial work have been reviewed in the Huffington Post, the New York Times, Art Report, Indian Abroad, Art View, Sorbonne Nouvelle Paris 3, Voice of America and BBC Persian Services.
Negin received her BFA in Sculpture from Tehran University in Iran in 2002, and her BFA  Performing Arts from the School of the Art Institute of Chicago in 2010.
For more information on this project, please check more on the artist's website. www.neginsharifzadeh.com
Angry Underwear
Tania Ferrier will exhibit her project "Angry Underwear", on it's 30 year anniversary at NOIR DARKROOM gallery in Coburg opening on February 7th – February 18th, 2018 and Salamanca Gallery, Hobart, in July, 2018. Tania will talk about her project, and it's relevance in the #metoo age, at NOIR DARKROOM on Saturday 10th February, 2-4pm.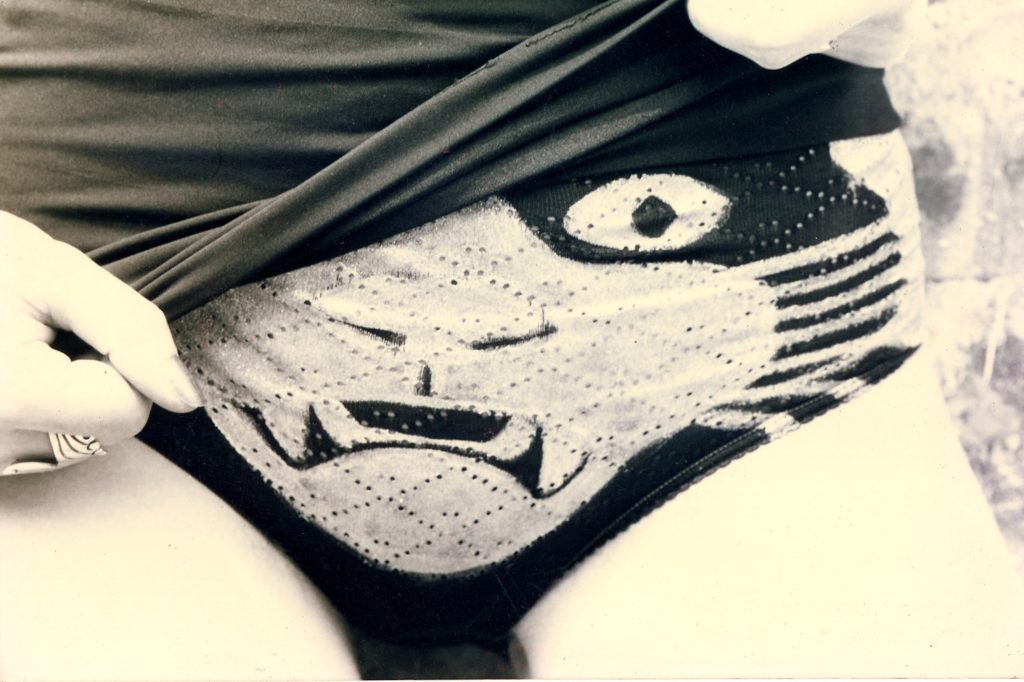 Ferrier completed a Bachelor of Fine Arts at Curtin University in Western Australia in 1986 and then travelled and lived in New York, USA in the late 80's and early 90's. While there Ferrier developed the project, "Angry Underwear", as performance intervention art and as a feminist fashion statement. International media covered the project and led to Ferrier's first grant funded exhibition in Australia in 1991. Ferrier continued her art practice as a painter and in multi-media as well as working in the Film & TV industry as a Set Decorator. She is the recipient of numerous grants, awards and residencies and has work in the Western Australian Art Gallery and private collections, nationally and abroad. Her recent project, "Talkback", was exhibited at A.I.R Gallery in New York in August, 2016. She currently lives and works in Melbourne, Victoria.
ANGRY UNDERWEAR
In 1988 a sexual abuse incident at a strip club in New York, where Tania Ferrier worked, inspired her to create Angry Underwear; bras and pants with teeth and eyes painted on them. Initially for the strippers to wear on stage in retaliation, Angry Underwear went from club land to become an international media sensation covered by USA, AUS, German, Italian, Japanese and Mexican TV programs and other media outlets. An exclusive lingerie store, Enelra, sold Angry Underwear to celebrities including Naomi Campbell, Lauren Hutton, Reno and Odetta.
In Perth in 1991, the exhibition, " Angry Underwear and Other Statements ", was briefly closed by the Shadow Minister for the Arts, Philip Pendal, citing obscenity and inappropriate use of government funding. It was re-opened with news outlets and talkback shows covering the story as well as national newspapers and magazines.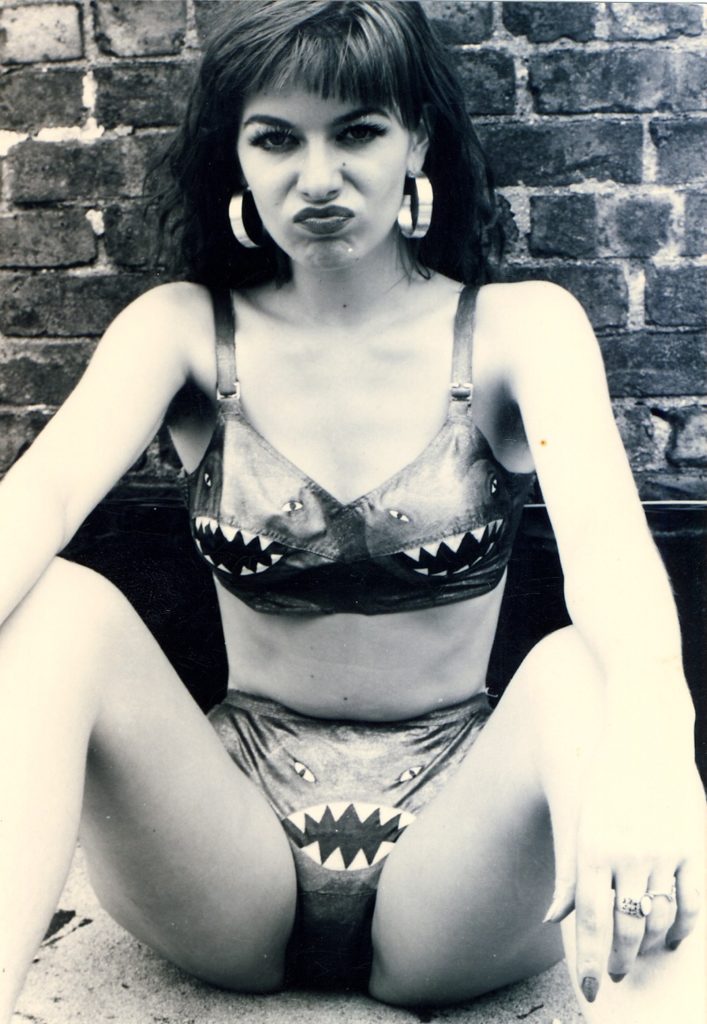 Ferrier moved into other art forms that gave voice to her interests in feminism and social justice issues. After completing an AFTRS screen writing for Film & TV course in 2017, Ferrier wrote a feature film drama titled "Angry Underwear" based on the project of the same name. Ferrier's script has been shortlisted for the Sundance Film Lab in 2018 and is the recipient of Screen Australia Story Development funding.
In the arts journal Praxis M, Zoe Sofia wrote:
Angry Underwear is costume as cultural intervention; she who is coded to-be-looked at can look ( and bite ) back.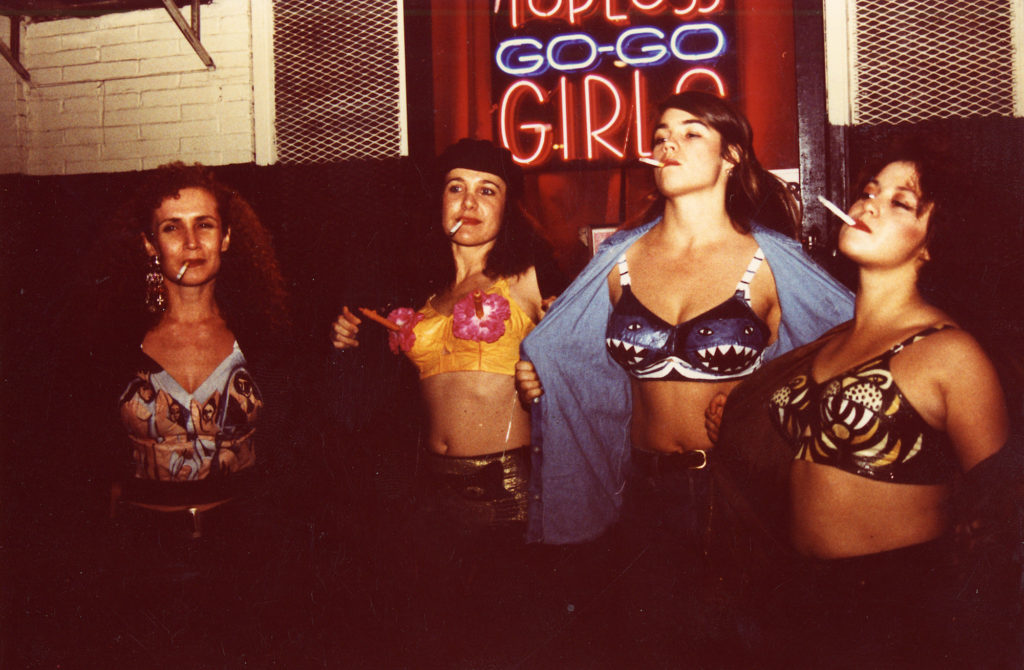 White Dress Narratives
Adrienne Wheeler talks about her exhibition, "White Dress Narratives" for the Ventana Festival at Frankston Art Centre, opening 23rd February to 3rd April, 2018.
Wheeler is a multi-media artist, independent curator, arts educator, and advocate for social justice. She lives and works in Newark, NJ, USA. Through her practice, Adrienne addresses the injustices that plague society, particularly those injustices affecting the lives of women and children.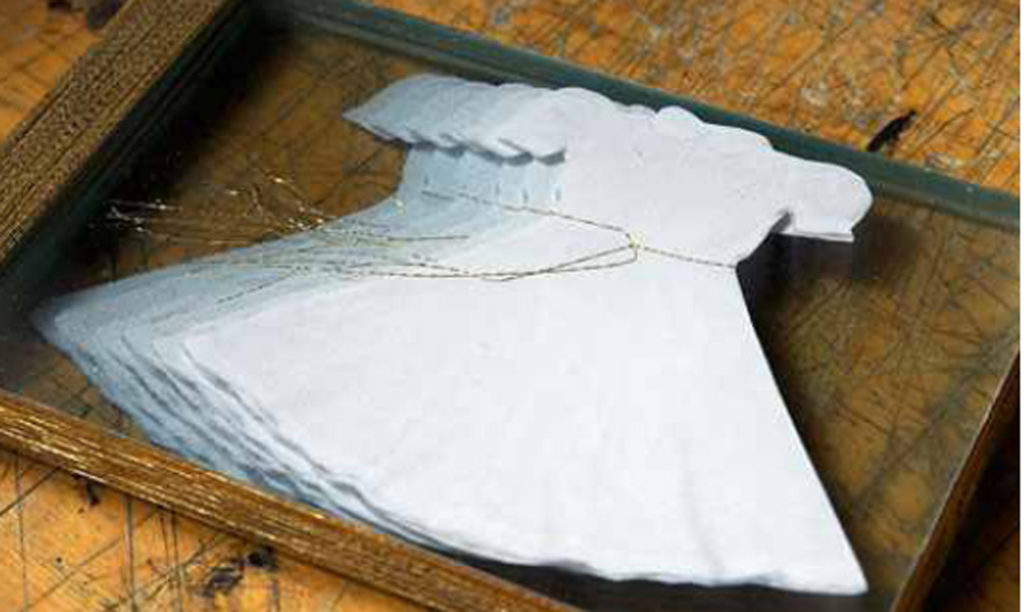 "In 2015, I was Artist-in-Residence for "Provisions", the tenth iteration of the Glass Book Project with founder Nick Kline at Rutgers University. We interpreted migration narratives of African-Americans who in search of better jobs, educational opportunities and decent housing, fled the Jim Crow south during the Great Migration and second Great Migration (1910-1970) settling specifically in Newark, New Jersey. My mother and grandmother left Bainbridge, Georgia and arrived in Newark, New Jersey in 1937, my mother was nine years old.
Since 2015, I have continued to use the image of the white dress my mother made for her elementary school graduation in 1942. It's first appearance in my 6"x4" glass book, repeated images pressed between sheets of glass and most recently in a 418 foot mural project.
The white dress as an abstract portrait documenting my mother's first academic achievement in a new place, has morphed into an interrogation of  "the white dress". Conjuring up notions of purity, ceremony, gender specificity and ancestral practices, I have begun to think of the dress as a vehicle for women's narratives.
For the Frankston exhibition I have created a wall mural of canvas dresses, each an exact size replica of my mother's graduation dress (41"x41").
In addition to the exhibition I will work with other local artists in a collaborative workshop. As an African-American woman I am particularly interested in expanding the dialogue with other women around issues of racism, gender bias, cultural appropriation and non- western spirituality. I will be supplying blank white canvas dresses on which to create the paintings and I would like to bring them back to the USA for exhibition."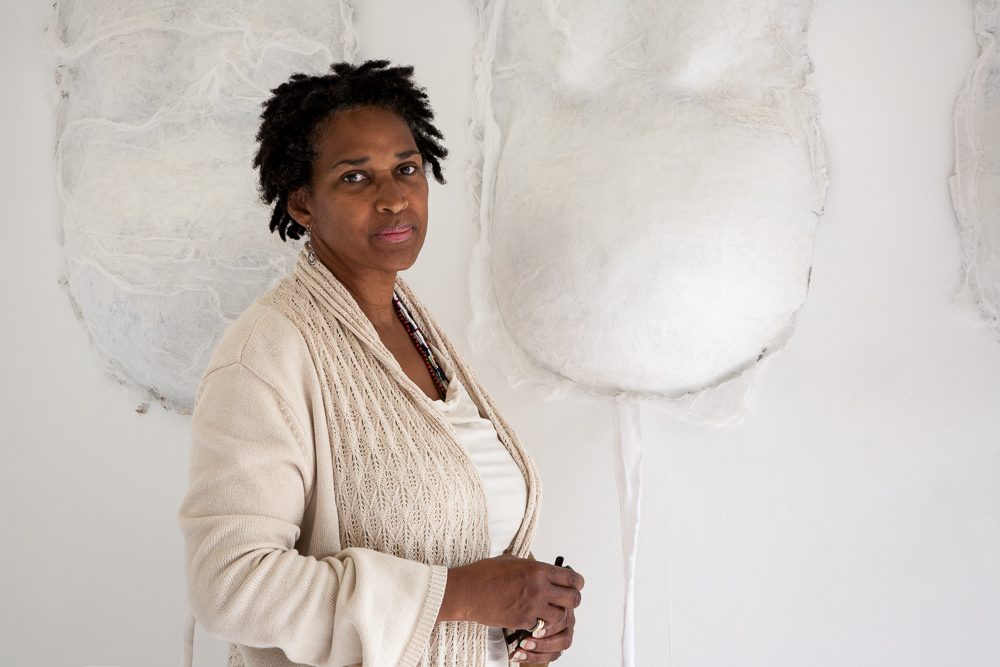 https://www.newarkartsphotodoc.com/adrienne-wheeler/
Friday 23 February – Monday 2 April | FAC and Cube 37
Free entry
Pure Power
A range of exhibitions dedicated to Women in the Arts featuring work from local and international artists
ARTIST TALK book here – Tania Ferrier and Negin Sharifzadeh
NOIR DARKROOM on Saturday 10th February, 2-4pm
---
---