Femme Noir and the mysterious realism of artist Dianne Gall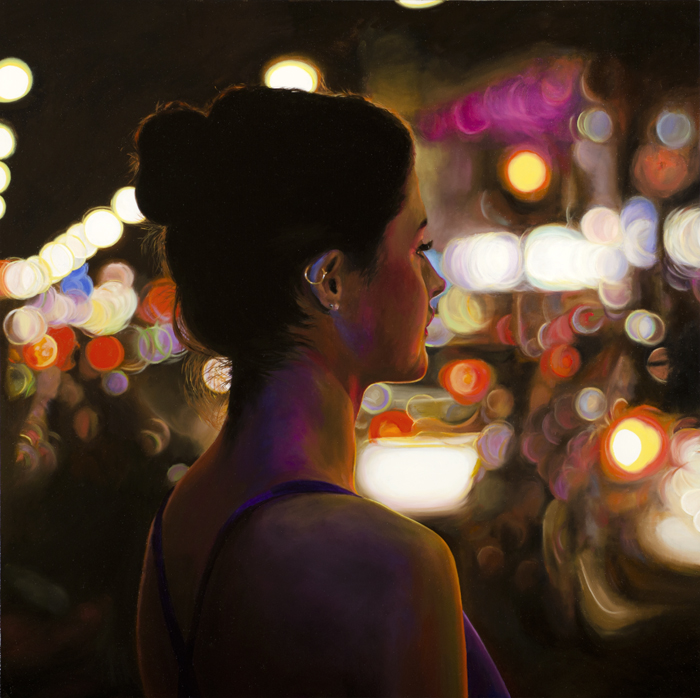 Contemporary artist Dianne Gall is an artist whose realism is evidenced in both the meticulous detail of her paintings and in the attributes of her subjects, her glamorous femme fatales. Inspired by Film Noir, Gall evokes a bygone era with all its mystery, intrigue and psychological interplay, yet her women are strident and powerful even in uncertainty. Claire Bridge spoke with Dianne Gall for Art World Women about her current exhibition Femme Noir, Pin-up girls and Vintage style and we also take a peek into a day in the life of the artist.
above image: Dianne Gall "Bella in the lights" 2012 Oil on linen 91x91cm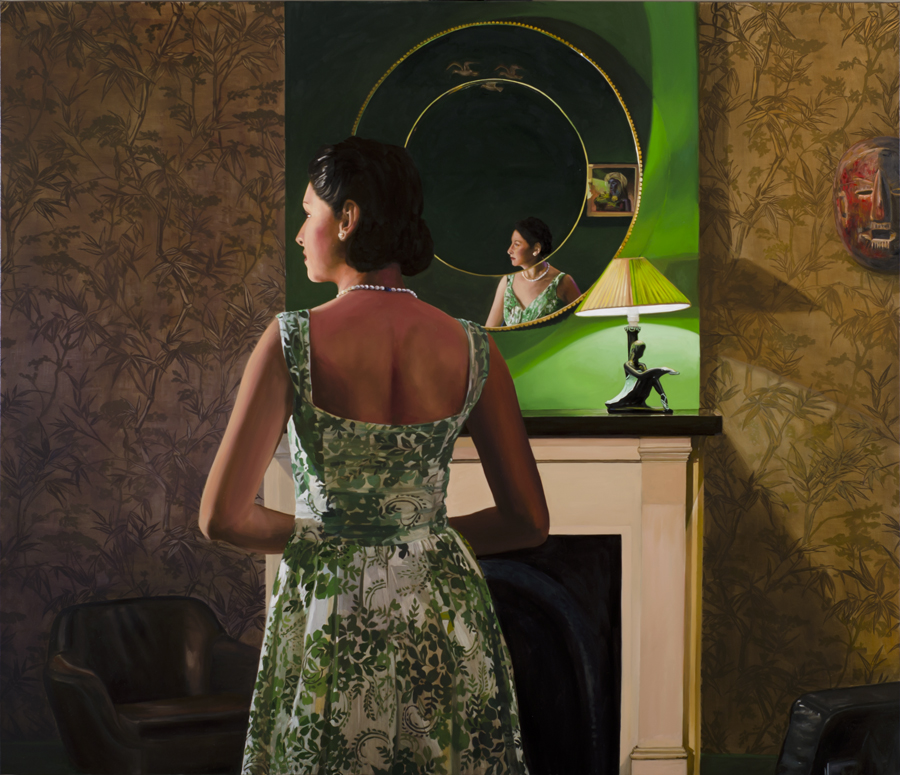 AWW: Femme Noir is a turn of phrase which elegantly combines your fascination for the genre of film noir with a hint at the dark side of the femme fatales in your work. What fascinates you about these?
DG: Film Noir is hard hitting, truthful and a slap of reality. The allure of beauty often hides what lies beneath. I don't often like to depict males in my imagery as they are usually just standing by the action, on the periphery, or asked to be let in on the action. My females are strong, and in control on the surface of it. They are not to be crossed and they are to be respected for their opinions and choices in life. I found my personal experiences have made me search for a metaphor to describe how I was feeling and Film Noir was the obvious vehicle for me. What has taken the time is how to make my own version of Noir…my Femme Noir.
AWW: These new works in explore psychological landscapes. There is unease and disquiet paired with luscious beauty and seduction in your high realism paintings. Can you tell us more about the emotional and psychological terrain your women inhabit?
DG: They carry the weight of their lives and those closest to them, silent from the world, dwelling in their own introspective reality. Regardless of their environment, the things that trouble them are there in their thoughts, never able to defer away, only to occasionally suppress in the recess of their minds. I am interested in what drives the mind, what drives a person to do the things they do and the way they do it. Is it because of circumstance? Has something emotionally scarred them? Are there environmental issues? Why do people behave the way they do? So they can be dissociated from themselves, from their surroundings and exist in a reality outside themselves.
AWW: Who are these women? What are their aspirations, challenges, dreams and dramas?
These women are ones who hope for more in life, they challenge themselves. Like everyone they fall once in awhile, but it is their inner strength that pulls them on to fight another day. These people are ones who are conscious of their place in the world, their contribution to society and their actions in it. It matters what they do, if only to themselves, it matters every minute of their lives.
AWW: These paintings are carefully composed to evoke certain moods and have a filmic quality. Yet you have carefully crafted each scene. These are "sets" you have personally discovered. Can you tell us about how you came to discover and decide on your locations and what is it about these environments that speak to you?
DG: I am always on the hunt for locations, I do not naturally inhabit these worlds so I research online old theatre foyers, hotels, clubs and pubs and if it looks interesting I take a scout out to the location to see if they are what I want. They need to have interesting lighting, chairs, and wallpaper, things that allow me to create a drama when I place my model in the scene. Sometimes these locations provide just a corridor, however getting the right one with the right lighting is not as easy as you might think! I want these places to be dark, to have a history about them, almost a seediness lurking in the shadows. I find it quite stressful dealing with the owners/managers of these places as they can be difficult to fit in with, then organising the models time and fitting it all in with my own time commitments.
AWW: A specific era comes to life in your work. Can you tell us about your choice of "time" and context and what is it about this era that interests you in relation to how you choose to represent your  "leading"women?
DG: I think the modern world is often facile, focussed on youth and image, politically correct. People seem to have lost some of their strength of character. The Femme Fatales that pervade my paintings are strong of mind, steadfast in their beliefs, they care about themselves and their appearance. The world portrayed in Film Noir movies from the 30-50's said it like it is, they weren't always to be trusted, mind you, but strong they portray life as reality rather than a manufactured world that we would like it to be.
AWW: These works, like snapshots of some turning point in the plot of a film, evoke a narrative and story we can't quite seem to put our finger on. Do you have "back stories" in mind as you work on these, are there certain characters you are wishing to convey?
DG: The back-stories come from reality, so there is an ocean of true tales to tell!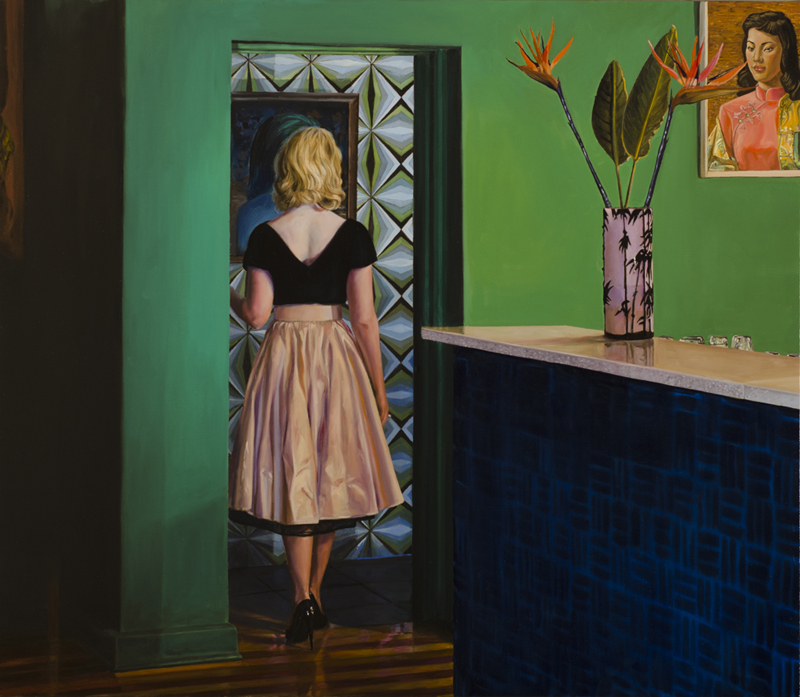 AWW: Beauty, curiosity, intrigue, seduction and suspense characterise your paintings. Like a Hitchcock film, there is a hint of malevolence. Are you consciously keeping these qualities in mind as you paint? What are your thoughts on the importance of bringing these qualities through in art?
DG: I have chosen the filmatic stage to portray my characters, as this is how I view life. It is not all a bed of roses. It's hard, tough, disappointing and often not how you thought it would be and my characters are dealing with these hardships. So it is in how they deal with this that are portrayed, how they appear to the outside world. The exterior that a person presents with a happy glowing smile is not always what lies beneath the surface. Women are overtly sexual often. They cannot help what they are and yes often can be malevolent as a result of the way they have been treated.
AWW: You have jumped headfirst back in to full colour in these paintings, since the predominantly monochromatic works of your exhibition "The Dissociated". Is this another reference to the shifts in motion pictures from Black and White to "Technicolor"? Your palette seems to echo the palette of 1950's film. Can you tell us about your palette choice?
DG: I deliberately removed colour from my paintings for a couple of years, this was because I needed to remove clutter from my paintings and deal with some basics like tone and get down to the nub of what I was painting about. These works are deeply routed in my own psyche and reflected a very dark place I personally inhabited. I now have clarity in what I'm trying to say and can again use colour as I once did in my paintings which heighten the visual response senses.
AWW: What films stand out for you as inspirational for your work?
DG:
Double Indemnity, 1944
Touch of Evil, 1958
Kiss me Deadly, 1955
Niagara, 1953
Written on the Wind 1956
Blue Velvet 1986
Mulholland Drive 2001
Drive 2011
AWW: You have hand-picked your models and Pin-up girls. How have you managed to recreate the glamour of Vintage style?
DG: I have picked people with a certain look because I want my models to be strong of character, which is something very important to me and this is where the images get to depict the femme fatale. I do want them to have a certain beauty, it comes in many forms but I wish to be able to show the female form, the slender waist, the long neck, firm back, and perhaps beautiful hair. The women often have their own styling. I select from their own looks to slant to my way of thinking. Altogether, with vintage styled environments, I manage to create my own filmic stage on which my women stand.
AWW: Is there such a thing as "Vintage" lifestyle? Is the resurgence of the fashion and styling of the 1950's also an emergence of the values of that era? What are your thoughts about the appeal for women and for some men of Vintage style and what does it say to you about what women are saying about their identity?
DG: I think there is a resurgence of 1950's as a reaction to the often misogynistic mainstream music. More and more young women are finding they want to be respected. They want to be proud of the way they look and behave and vintage styling is an affordable way of doing this. It also allows for an individual style, no one off the chain store racks, that are overproduced and overpriced and generally fall apart after one seasons' ware. Dressing Vintage makes economic sense.
AWW: Which women artists do you look to?
DG: Lee Price, Pamela Wilson, Loretta Lux.
AWW: What's a typical day in the life of the artist like for you?
DG:
9.00am Read and answer work and art related emails. Update Social Media pages.
Work on my Day job, as a Researcher/Librarian in the morning.
Work on a section of a painting after lunch.
Look at some images for new works as a break from painting.
Answer some more emails, do some more day job activities. Do some online searching to see what the artworld is up to, artists, galleries and exhibitions around the world.
Go back to painting until 6.30pm.
After Dinner return to studio around 9pm, more painting. Depending on how I feel go home from the studio around 1.30-2.00am.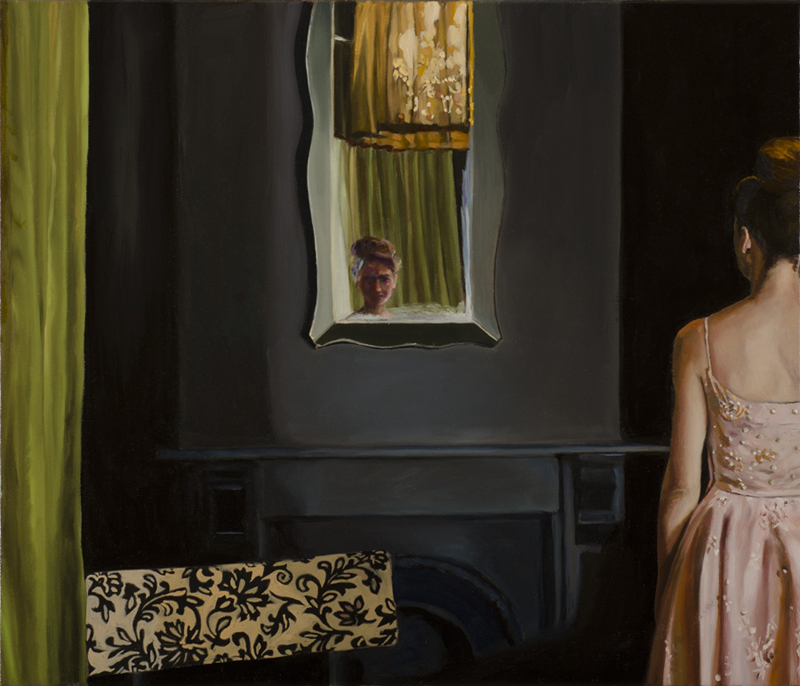 AWW: Your works exhibit high realism in painting, a meticulous attention to detail and deep appreciation of your materials. Can you share with us some of your favourite artist materials you work with and why?
DG: Vasari Paints!! I love them, they are the most wonderful pigments, great consistency of paint, they are so reliable that every tube is the same. There are never any dry bits of pigment, badly mixed or too much oils in the tube etc that I've found with other paints. They have a wonderful colour range that has been added to from different American artists' palettes as well as the staples of course. My fine point sable brushes are a treasured object on my painting table and I try my hardest to keep their longevity by caring for them in the right way.
AWW: You've recently been exhibiting in Ontaria Canada and California, USA. How have these art exhibitions come about?
DG: Years of social networking have allowed me to have art related acquaintances from all around the world. Some of these are artists, some are art curators, and others are writers and art dealers. It was only natural over time for some of these 'friendships' to evolve into business relationships as well. Other ways I've participated in shows include the fact that many International Galleries have themed exhibitions who put calls out to artists to enter their works, I have answered a couple of these and basically my exhibitions have come from a mixture of these sorts of interactions.
AWW: What's next for you Dianne?
DG: I have a commission to work on. I need to take stock after two solo shows and see where I am, check the validity to me of what I'm painting and examine the images I have produced to see what my opinion of them is with a little distance. Meanwhile, I have been working on a portrait of my great uncle, Dr. Don Beard now in his eighties. Ashleigh Mallett is writing a book about his life and I would like to complete the work to coincide with the book launch.
Internationally, I will be showing again in Canada with The Focus Gallery.
Website: www.diannegall.com
Dianne Gall is represented by:
Catherine Asquith Gallery, Melbourne
Emerge Art Space, Perth
Beaver Galleries, Canberra
The Focus Gallery, Hamilton, Canada
Femme Noir is showing at Catherine Asquith Gallery, Melbourne
16 October – 3 November 2012
---
---