Art of Heather Shimmen, sinister portents and bright imaginings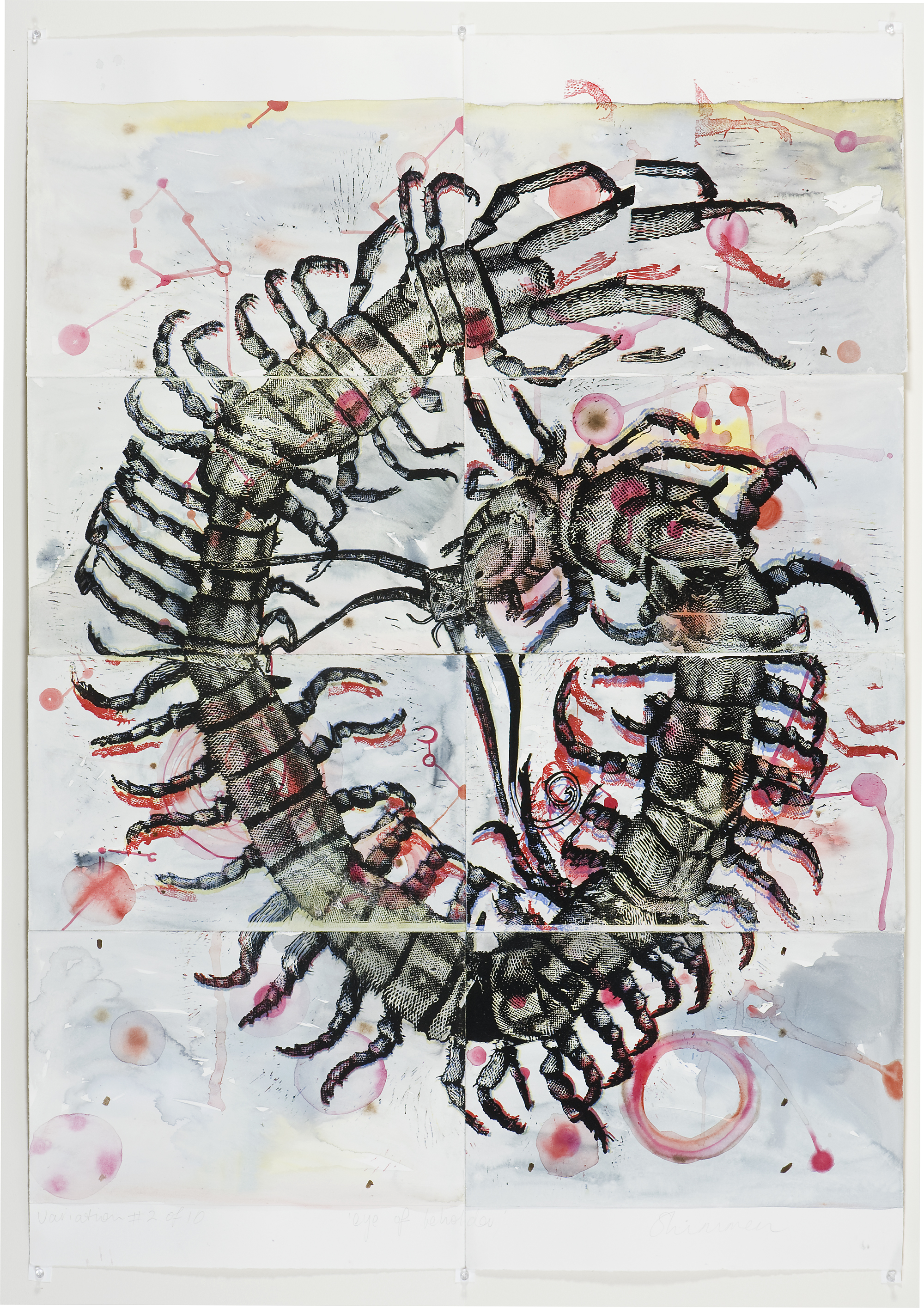 Artist Heather Shimmen recently spoke at SelfSpecies, an exhibition by Josephine Kuperholz, Ruth Johnstone and Heather Shimmen and curated by Martina Copley, which looks at our relationship to the natural world. Art World Women was there to catch a glimpse into the darker recesses of Shimmen's sinister poetics of imagined futures and reconstructed pasts.
image: Heather Shimmen, Eye of the Beholder I, 2011, linocut and watercolour on paper, version 1/10, 128 x 100cm
Heather Shimmen's work touches on themes of colonialism, migration and land coupled with a fascination for the natural world and its creatures. She fuses the scientific, entomological representations of insects and the world of animals with historical narratives. Shimmen uses multiple layerings of fragmented and reconstructed images. Her hand-cut lino prints are as intricate as fine, etched engravings on their heavy paper.
What does the work say about our relationship with nature? Shimmen seems to evoke wonder, play and intrigue. Qualities which perhaps stem from her childhood activities of collecting insects and creating an insect hospital in which to attend to them.
I am a collector of all sorts of 'things' and have done so since childhood. Much of what I am attracted to is from the natural world. I was and still am fascinated by insects, spiders, and all things creepy crawly! – Shimmen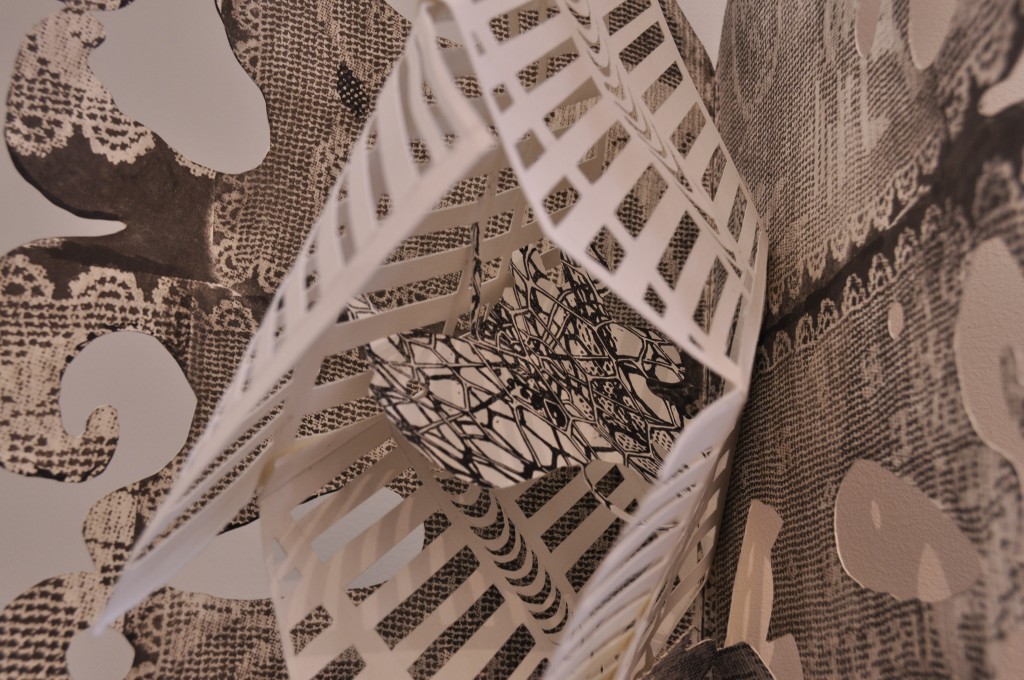 Shimmen steps beyond the boundaries of traditional printmaking, turning it back on itself. Eschewing the multiple editioning of the singular replicated 2-dimensional sheet, Shimmen moves her work from the wall, with its collaging and layering of printed images out into 3-dimensional space, pushing it further still over and edge into four dimensions with her use of  elements of movement and time.
My images fracture, distort and reconfigure. One beetle is camouflaged, whilst another is metamorphosing into part human, my butterfly is not an innocuous creature but a portent of things to come- Shimmen.
The flat print now transforms in Shimmen's hands into a kinetic sculptural artist book that hovers in space, inviting interaction  Here is a play of form and shadow, form made with silhouette, the cutting away, the absence of substance giving shape to the tapestry of imagery on her "pop up" books.  Hanging from the ceiling of the gallery, the "artist books" are vulva-like, with their secret internal spaces, hand-cut shaped and frayed silhouette edges. Constructed and deconstructed at the same time, like the goddess Kali, Life-giver /Destroyer – these books are a remaking, mirroring the constant flux of change of creation and destruction and recreation of the earth itself.
What comes across in Shimmen's work is a synergy of opposites. A formal structure and order beneath the playful and imaginative chaos of imagery. Using a limited palette of predominantly white, black and red, supported by an armature of process, including solvent transfer and linocut print,  she layers printed image overlapping hand painted water colour, then deconstructs the order and with cut and tear, fragmenting the forms. Each object is made unique by hand, be that with water colour, tea, hand cutting, organza or thread.
The feminine is present in the work – balanced with logic and  the diligent, patient, decisive process of printmaking. One image alone, Kanguru, took four months just in the cutting of the lino. The work is not rushed.  Shimmen speaks of the imagery evolving over years, as themes, ideas and images recur and merge, taking a new form.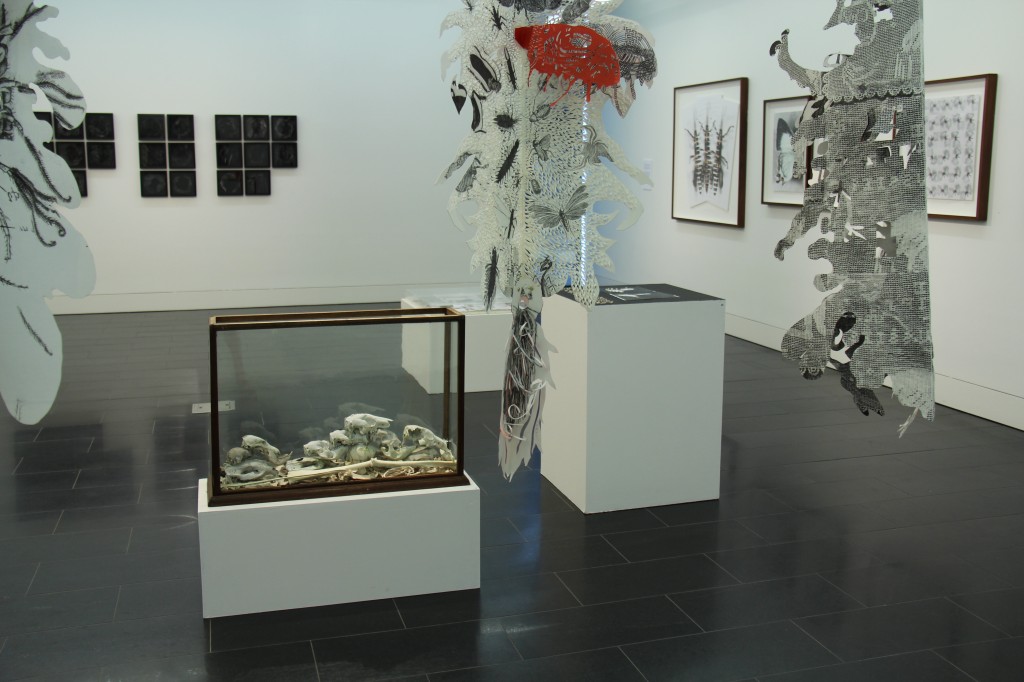 For Martina Copley it is interesting to look at how we engage with the natural and man-made worlds.
Shifting our focus from the 'aboutness' of the world, to look at how the mind works, is very much the concern of art and artists. To begin to think of one thing in relationship to another. … Looking at the nature of mind, the relationship we form with what is going on, we see that which we share with all human beings. The nature of attending. The mental landscape or ecology. – Martina Copley
There is a duality in the relationships Shimmen constructs here. Masculine histories are contrasted with feminine narratives. With her use of "women's" materials; sewing, binding, thread, weaving, layering and fabric such as organza, Shimmen references the place of women in the landscape of Australia.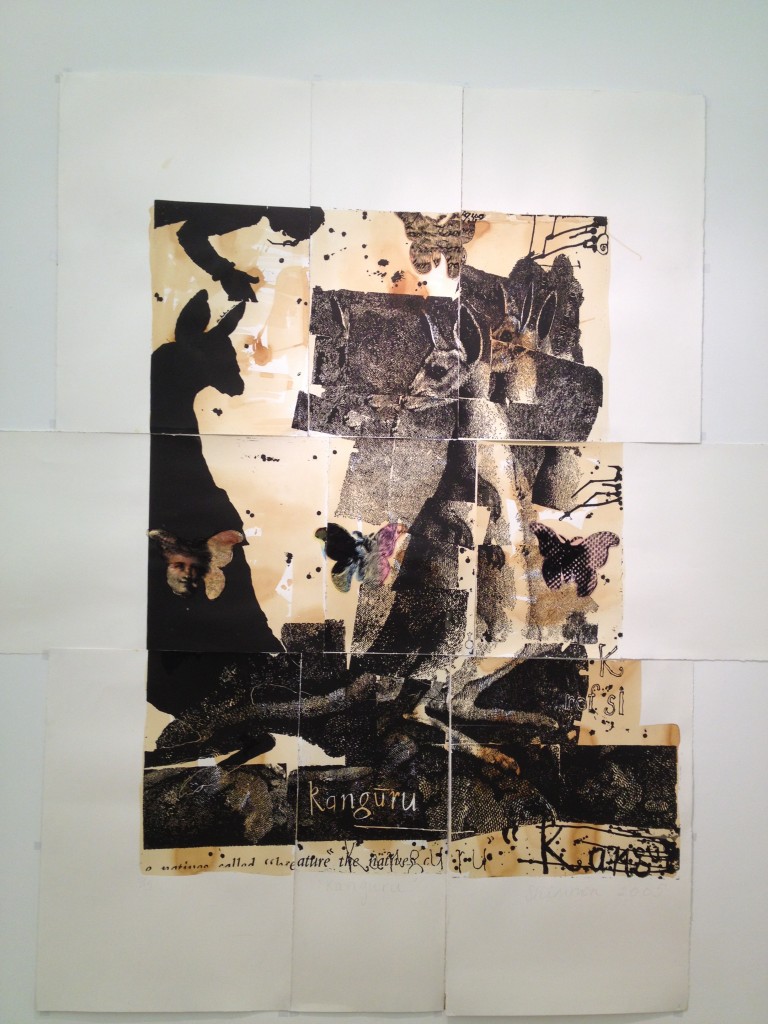 At the same time she does this drawing on male histories – "Kanguru" retells the story of Captain Cook's voyage to Australia and of  the first drawing of the creature to be known as kangaroo being sketched, followed by this drawing and label returned by sea to England. It tells of the meeting with indigenous peoples, the introduction of white colonisers to the word "kanguru", the spreading and dissemination of language and of knowledge. Shimmen ponders had Cook's ship landed on some other edge of Australia,  then the word could be different spoken by a different group of aborigines. The label for this animal that we now know as "kangaroo" in all possibility could be something else entirely.
Contrasted with this history and science are the movable artist's books, with titles "Suspended Anima", evoking the feminine the soul aspect, the inner unconscious feminine. In Shimmen's work, myth and mythology, the personal and intimate sit alongside the universal and cosmic. Shimmen tells a story of the old building out the back of her property , the former home of some old rocker who in a substance infused haze wrote a poem of Minerva all over the internal walls.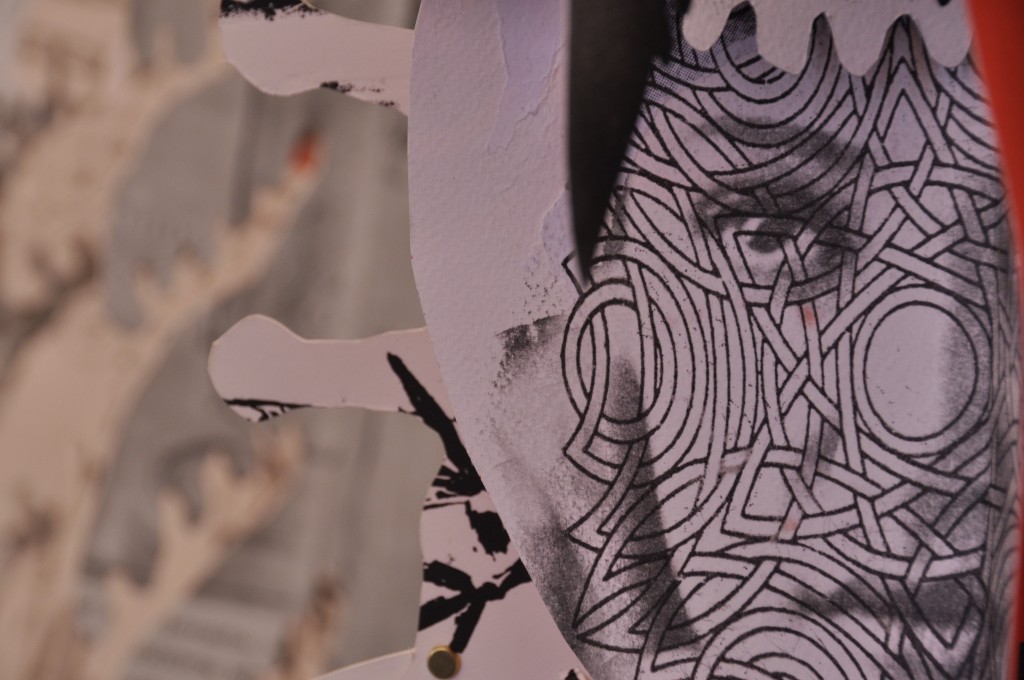 Fearful at first, Shimmen gradually approached the old building with it's crazy  poem. Once embraced, Minerva and her symbols began to appear all around, such as on her trip to Bath  in the UK.  Minerva the goddess of Wisdom, had entered the narrative, and unwittingly (or was in intentionally?), Shimmen  just happened to be wearing an owl emblazoned black top during her artists talk at SelfSpecies.
In her work, the seriousness of adult stories and adult narratives are inter-woven with flights of fancy, the mystical fantasy of a child's imagination. Woven quite literally, as Shimmen physically employs the weaving of thread into her artist books. There is beauty and horror in the work.  Not a horror that terrifies, but a resonance of darkness, of chaotic and dark mysteries. Well that is, unless you consider the Siamese pairing of enormous millipedes terrifying, in the works "Eye of the Beholder" which when combined with Shimmen's recounting of growing up in Papua New Guinea and the colossal tropical  millipedes she came across as a child, take on mythic proportions of memory.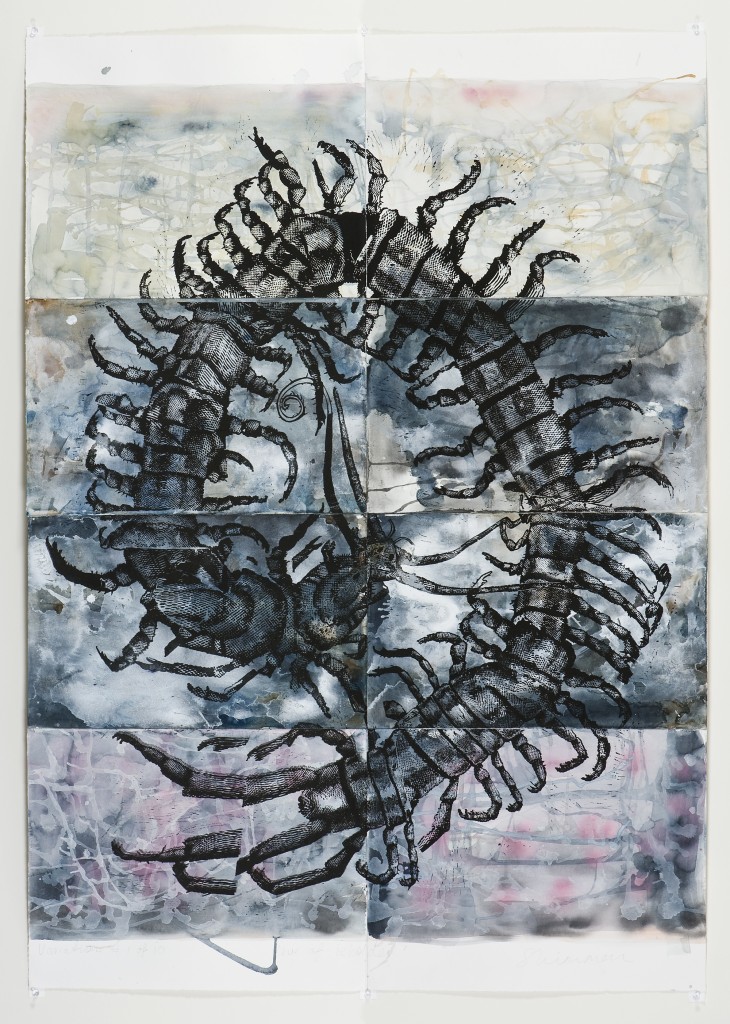 As Copley says "it is our attending" that is significant here. In Shimmen's work we see a personal relationship with the natural world, a fascination and curiosity – in how she greets it and also in the narratives that have been created throughout history, our cultural understandings and perceptions. She seems to make conversation between these. In her instincts she may lean toward the romantic, but she is ecumenical in her presentation. Shimmen invites us to question the labels we have constructed from our own cultural myths.  Her "books" speak of the archiving of knowledge. Yet Shimmen's books are undone – they surpise, they are unknowable in first glance, they must be interacted with, touched even to be activated and to be appreciated.
In this way Shimmen engages another level of the feminine, relationship. One can not be passive to appreciate, there is a presence to be acknowledged, there is movement in space to be negotiated – there is dimension and interaction. They ask to be explored.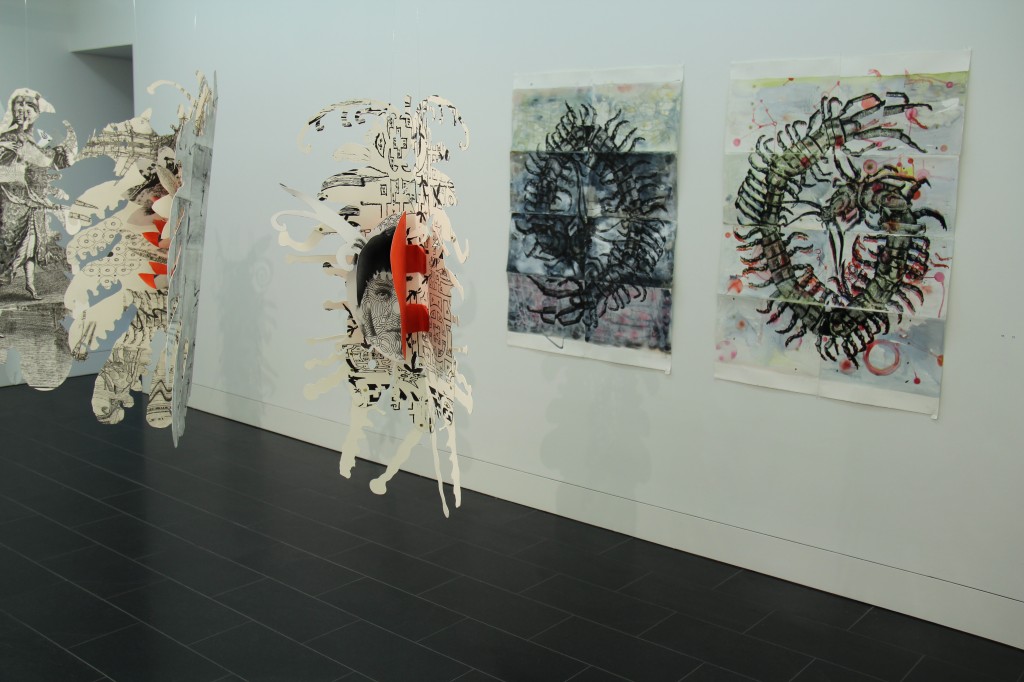 Perhaps this is at the heart of the message – an invitation to relationship, to discover and explore one's own relationship with the natural world.
Can we, as Copley suggests, stretch "to imagine the future of the world, plus its beginnings"?
Heather Shimmen has been a practising printmaker since the late 1970's. She has twice been the recipient of Australia Council Awards as well as having won the prestigious Silk Cut Award for linoleum prints in 1998. Heather is represented by Australian Galleries, Melbourne.
SelfSpecies – curated by Martina Copley:  www.martinacopley.com
July 19 – Sept 1, 2012
Josephine Kuperholz,  Ruth Johnstone and Heather Shimmen look at our relationship to the natural world in SelfSpecies.
Maroondah Art Gallery, Federation Estate, VIC Australia
This exhibition has also toured at LaTrobe VAC Gallery, Bendigo in 2012.
---
---