Louise Bourgeois, recognizing the self, the artist's way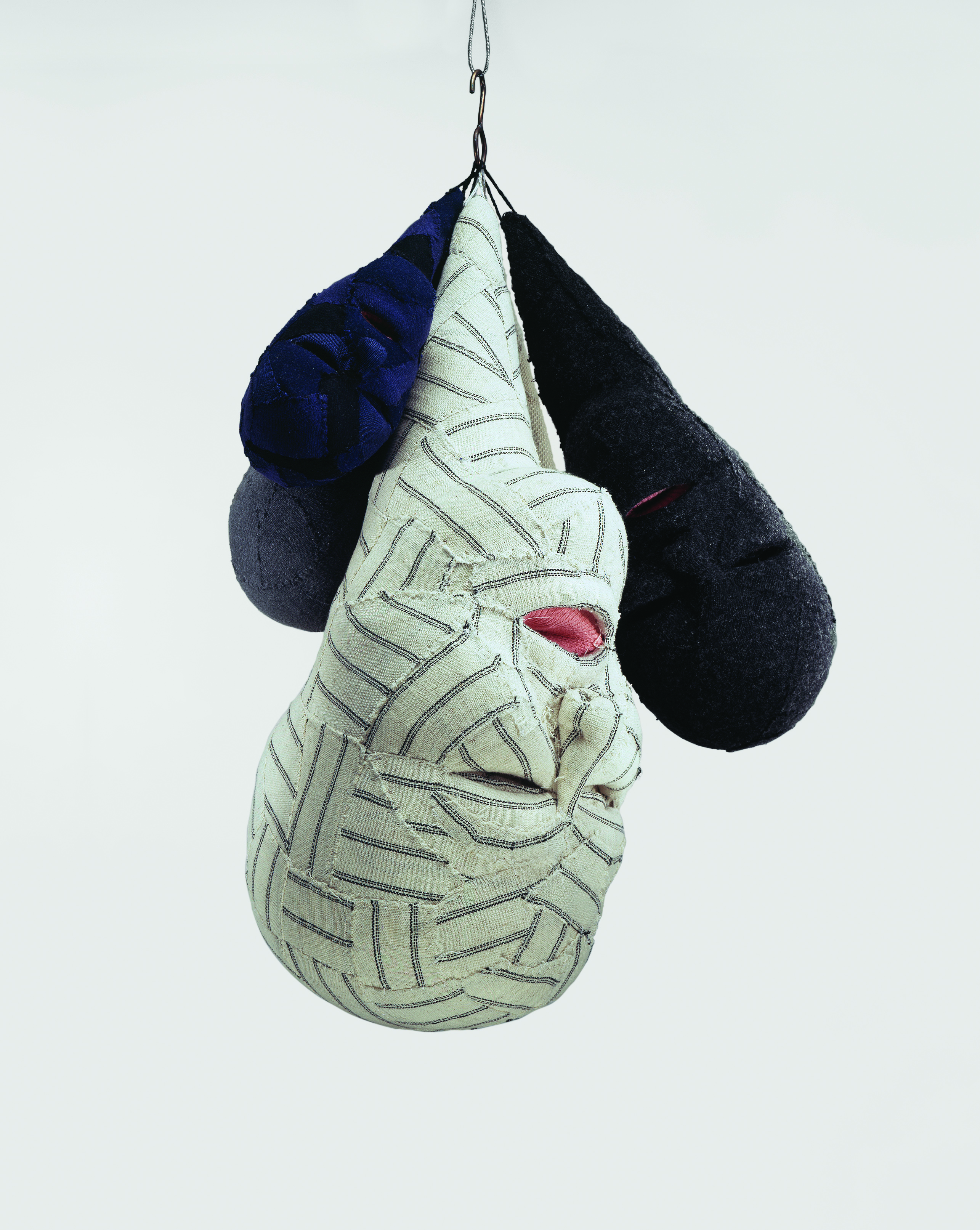 Louise Bourgeois: Late Works curated by Jason Smith
featured image above – Louise Bourgeois, Cinq 2007, fabric, stainless steel, 61 × 35.6 × 35.6 cm
Courtesy Cheim & Read and Hauser & Wirth
© Louise Bourgeois Trust / Licensed by VAGA, New York / Viscopy, Sydney
 "Art is a way of recognizing oneself" – Louise Bourgeois (1911 – 2010)
These words are at the core of Louise Bourgeois' art. At the heart of it, the works on show at Heide Museum of Modern Art, are not just objects of recognition, they are the very process of the artist recognizing herself. They are not just "a way" of recognizing  One gets the sense that for Bourgeois art is "The Way". As Bourgeois said, "Art is about life and that sums it up".
Louise Bourgeois' work transgresses taboos, transforms mediums and traverses the territories of an emotional, intuitive and subconscious world with all its mad darkness, mystery and shards of poetic light. Bourgeois' capacity to treat with utter disregard the academies of style, genre and categorization claimed her a freedom to create across a uniquely innovative material and stylistic array. 'Late Works', curated by Jason Smith, has brought together works from the past 15 years of her life, touching on the unparalleled diversity and breadth of Bourgeois' oeuvre; from soft cloth sculptural forms, to the 'stacks' of the Personages, neatly organised cloth books, drawings and sketches to text works, right through to the iconic Cells and Spider works.
Claire Bridge spoke with the Jason Smith, Heide Director and CEO, for Art World Women about this significant body of work by Louise Bourgeois, one of the most provocative, inventive and renowned artists of the twentieth century.
AWW: You met Louise Bourgeois in New York when you were preparing for the 1995 National Gallery of Victoria exhibition of her work which you were curating. What are your recollections of that first meeting with her?
JS: It was an interesting experience. I was very young. It was my first trip to New York, so I was in awe already. Jerry Gorovoy [ assistant to Louise Bourgeois] was warmly supportive and encouraging. The NGV exhibition was well and truly in development. I met Louise Bourgeois in Chelsea in January 1995, it was winter and the exhibition was in October 1995.
My memories of it are very strong. I didn't know that much about her as a person, because I'd never met her, but I remember being welcomed and sat down in the kitchen. It was lunch time and lunch was prepared for me by Louise, which was fantastic in a way. We spoke for a period of a couple of hours, primarily about the kind of work that was going to be in the show in Australia; the fact that there hadn't been an exhibition in Australia and about what she happened to be working on at the time. At that time she was continuing her work with the cells. Yet there's an irony. There I was seeing her in January 1995 and the current exhibition here at Heide begins with work made in 1996. So I'm feeling like I'm stuck in a kind of strange time warp!
AWW: Was it your intention to choose works for this show from 1996 onwards?
JS: In terms of what I chose for this show. This show happened because , if you think back to the exhibition in 1995 at the NGV, that show comprised of work from two distinct decades. Surveying the 40's and the 50's, including her totemic 'Personages', works that she considered her first mature body of sculpture. Then we fast forward to work from the 1980's and early 1990's, where her career had blossomed after the 1982 retrospective at the MoMA in New York and had grown in ambition and scale.  That 1995 exhibition culminated with an acquisition of a work, 'Cell: glass spheres and hands'.  So when Jerry and I were thinking about this current exhibition at Heide, Jerry and I decided to pick up from where we had left off. Wouldn't  that be a good place? Even though it had been 17 years since people had seen Louise's work in the flesh, she certainly had an enormous global presence.  People who were interested couldn't help but have a visual sense of her work, but we hadn't seen a comprehensive body of her work here in Australia.
It made sense to us to pick up from where we left off, because Jerry said, "That year after you were there Jason, she [Louise Bourgeois] said, "Go upstairs and get the clothes and textiles out of the closet!" So there is a 'neatness' to it, if you will.
AWW: As you describe it Jason it is almost an "act of sewing together" just as Louise herself might have done?
JS: Well yes, we didn't drop a stitch [laughs]. Let's put it that way!
AWW: There has been a close collaboration between yourself and the Louise Bourgeois' studio in the development of this major survey of her work. I spoke with Jerry Gorovoy and he told me that you had "open slather" in choosing the works you wanted for the exhibition. What guided you in your choices?
JS: I did! It was amazing. What guided me? Well there are the practicalities of relatively limited space in the central galleries here at Heide. Because Louise's work needs breathing space and I did not want to overcrowd it. I started from the position that "Less would be more" and because of that I knew that I wanted fewer things, but major things.
Really, from 1996 there had been a couple of turns in the work. It was dominated by fabric and the use of fabric in sculpture, but also because after decades of predominately abstract work, from the mid 1990's onwards there is a strong figurative presence of the body, of the female body in her sculpture.
She gives that body material form in a variety of different types: in the cells, in the vitrines, in the reflection back to the "Personages" – these stacked fabric towers that we have in the show, in the heads, the spider, the hanging clothes. I wanted the range of sculptural types she produced over the period. She was creating the sculptural heads, the small sculptural bodies, she was creating spiders, she was creating fabric drawings. So that was what led me. In twenty or so works I wanted to encompass the full range of her output over the past 15 years.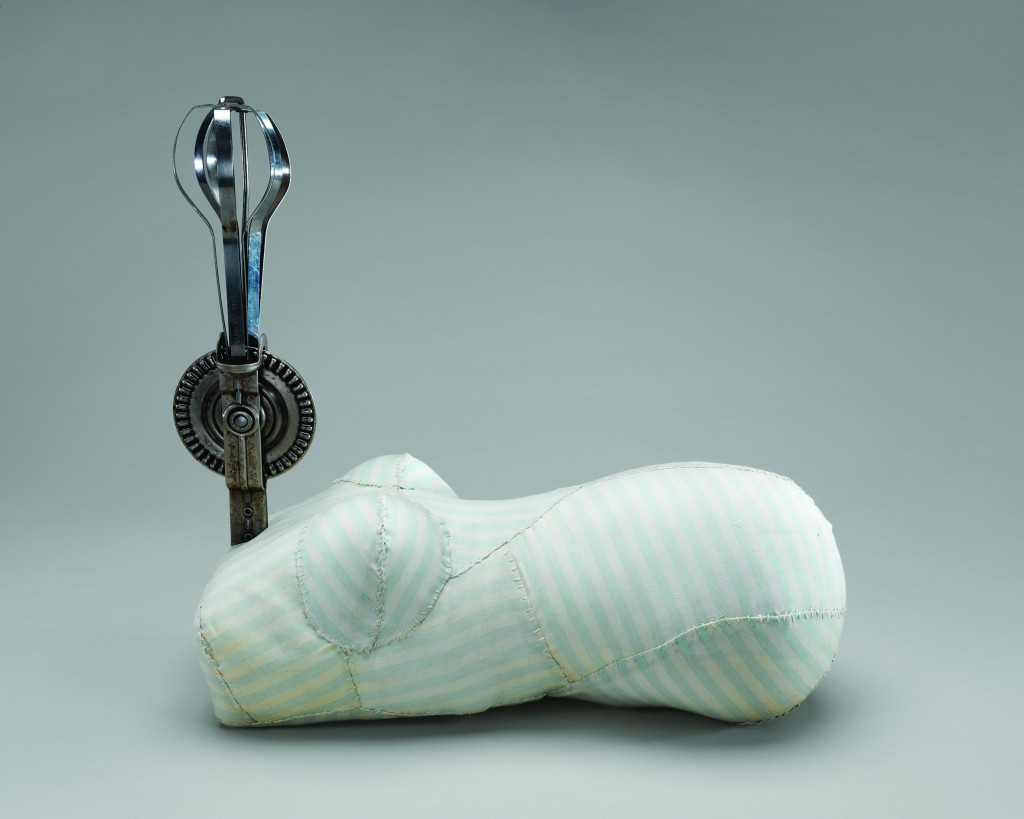 AWW: What stories, relationships and conversations are you establishing in your choices about objects in each space? A very powerful relationship is established, in one of the main spaces of Gallery III.  "Single I" 1996, a suspended upside down dark form of a body hangs headless like a tortured carcass in one corner in the darkness. At the other end of the space in diagonal opposition, the upside down hanging heads of "Cinq" swivel as if on a meathook.
JS: Very stark. It is very stark indeed. Louise was a highly intelligent, tuned-in woman. She knows that looking at those kinds of images, something as stark as a headless, suspended body or a group of five decapitated heads, evoke very powerful emotional responses. Visceral. Intellectual and emotional.
As Louise Bourgeois herself said, it wasn't  an idea or a concept or an image that she sought in her work. It was an emotion. She sought an emotion. I think that because she sought an emotion and that was the number one priority, her work was about recognising emotions, dealing with emotions, any of the negative emotions. Because that was her "modus operandi", that was her way of working, I think we can't help but tune into those emotions ourselves. I think that might be one of the keys to the power of her work – the power of her work across gender. It's not just about women. It certainly comes from a woman. It comes from a woman of experience but it crosses gender and invites us to tune into human emotions that are shared between men and women.
AWW: Yes. Jerry Gorovoy spoke of Bourgeois exploring emotions that are "pre-gender". It is those things which are universal and at the guts of who we are. The raw. You experience this in front and with her work. It bypasses the intellect and smashes on in the emotions.
I'm curious about  your sense of Louise Bourgeois' process. She is exorcizing pain and expressing the darker and negative emotions, but I am wondering if Bourgeois ever really wanted to heal those emotions? Or is your sense that she was working with these dark emotions more as a fuel and an energy rather than to resolve them?
JS: Both. Certainly emotions were a fuel. They did provide energy and they did provide impulse to work and to give material form to certain emotions. There also had to be some form of resolution. I know that Jerry said he had to get the work out of the studio before she kept cannibalising into other works. But you don't have a career for 70 years and we must remember, 40 of those years were without Jerry, without recognising something in your work. Only artists can do this. They recognise when something is powerful enough to convey what they want it to convey. I think it was a combination of resolving but with the understanding that resolution might be impossible.
In the making of things there was a liberation. That's the point. In the making of things there was a liberation of some kind.  It was liberating the energy. It was dealing with the energy. It was dealing with the emotional energy through the physical act of making.
AWW: The act of creation itself transforms the emotional force.
JS: Yes that's right.
AWW: We discussed Louise Bourgeois' work aims at being "pre-gender", more primal than constructed, and although it reaches into the feminine, into womanhood with poignant self-portraits as daughter, mother, wife; the work isn't necessarily about being a woman in itself.  Yet Bourgeois' work really gained its strength through those periods of rising feminism, women's liberation, post-war society and the growing prevalence of psychoanalysis. How do you see Louise Bougeois' work in the context of those times?

 
JS: Because Louise had such a long career, the benefit we have with her work is that we can read it within those contexts because she herself gave us those access points. She did spend time in therapy. She did spend time in psychoanalysis. She was a political animal at times. Yes she was engaged by feminism. She understood the plight of women and the role of women. I think the thing is in a career of incredible longevity she moved through and quietly absorbed these factors into her work. She was an intense human being. Let's face it! But of course, as a subject or as a patient in psychoanalysis of course it impacts on her work.
She was a psychoanalytical being.
AWW: It was her nature?
Yes, it was her nature. She was keeping diaries, visual diaries and written diaries from the time she was twelve. It wasn't just that she 'needed' therapy when she was an adult woman – but she was a psychoanalytical being. I think that is an important point.
She sees and feels the motivations of others. In my thinking, her responses to those motivations of others are realised in her sculpture. She responds to the motivations of others and her own motivations through sculpture.
AWW: Can you tell me more about the text works such as the pages of books, the leaves of fabric. How do you see Bourgeois' use of words in her work? Are they operating where forms can not?
JS: They operate in tandem. Everything operates in tandem. This is the thing about Bourgeois' work and which makes it so intriguing. She was a prolific writer. She was constantly writing notes and aphorisms. Words helped her deal with emotions as much as images did, or drawing or making sculpture. They are part and parcel of the same process of self-awareness. Everything was a process of self-awareness. Writing, images, texts, sculpture. Words would be repeated again and again and again in a way that they became a drawing and not just a text.
AWW: Bourgeois is overt with her expressions of sexuality. Some work speak of the trauma of her witnessing her father's infidelities such as 'Couple IV, 1997', but there is also the sense that she is quite liberated which comes through in the work.
JS: In a way, I think so. That was the point of making the work. That defined her. It was what she did. She owned it. That was why the work was so important to her, because it was absolutely outside of anyone else. Like Jerry said, "If she stayed in France she wouldn't have become the woman she became."
AWW: Do you think Bourgeois was instrumental in opening the flood gates for other artists, to really give them permissions to be absolutely emotional in their work?
JS: She was one of them, absolutely. Couldn't agree more. It's very important.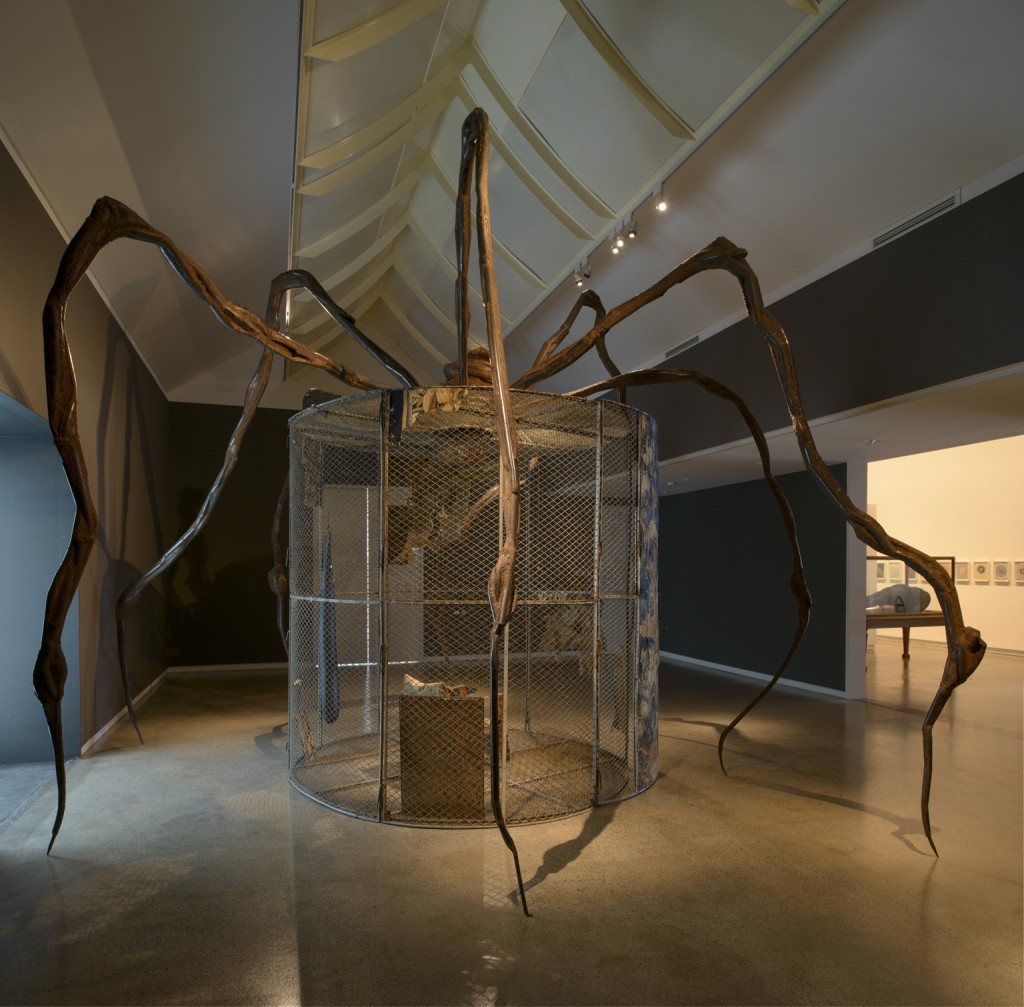 AWW: You wanted to incorporate two major themes of Louise Bourgeois', that of the Cell and Spider in this exhibition. Could 'Cell' be attributed more to Bourgeois' relationship with her father with its implicit distancing, the architectural of its geometry, its imprisoning and voyeurism, and conversely 'Spider' to her relationship with her Mother? In this show they are exquisitely combined in the one piece, "Spider 1997" which is the centre piece of the whole show and evokes reverence as would a temple in the space.
JS: There is the spider and the mother. There are elements of the father in the material forms, the hands and the cells. The cells themselves were more of a containing architecture. They were a practical condensing container. Instead of the exposure to the scope of the gallery space, these were small architectures within which she could contain the memories. In that sense I don't see them as places of imprisonment or of punishment although they have been read in that way. I've always seen them as very potent containers of memory. They are 'Architectures of Memory'. The cells are not about the father per se. The spider is about the mother. It just so happens we have the wonderful "double whammy". We got the only cell that includes the spider!
AWW: Louise Bourgeois is such a potent figure in contemporary art and for women artists. What do you think of the use of terms such as her being described as the "High Priestess of contemporary art"?
JS: I don't buy into those comments, into that kind of rhetoric. She was a hugely important influential artist. But those terms, "The Mother of Confessional Art", "The High Priestess of Feminism"… well… The thing about Louise's work and she herself would say, there's a degree of humour in it as well as emotional angst. She knew what she was doing. She knew what she was stirring up in people. She could be wicked! "The High Priestess", I think she would be rolling her eyes and grinning!
However that said, there is no doubting, it is hard to think of another artist that has produced an oeuvre of such longevity or stylistic and material diversity. Or emotional power. Her potency is these things all combined.
Louise Bourgeois: Late Works continues until March 11th at Heide Museum of Modern Art, Melbourne
Also showing at Heide is an exhibition curated by Linda Michael exploring the relationships between the art of Louise Bourgeois and that of ten Australian artists: Del Kathryn Barton, Pat Brassington, Janet Burchill, Carolyn Eskdale, Brent Harris, Joy Hester, Kate Just, Patricia Piccinini, Heather B.Swann and Kethy Temin. The permission to creative freedom that Louise Bourgeois exemplified is evidenced in the works of these artists; in Barton's sensuous eroticism, the mother/daughter intimacies of Just and Piccinini's visceral orifices gorging and disgorging.
Louise Bourgeois and Australian Artists continues through until 14 April 2013
---
---