Artemisia Gentileschi, passion and prejudice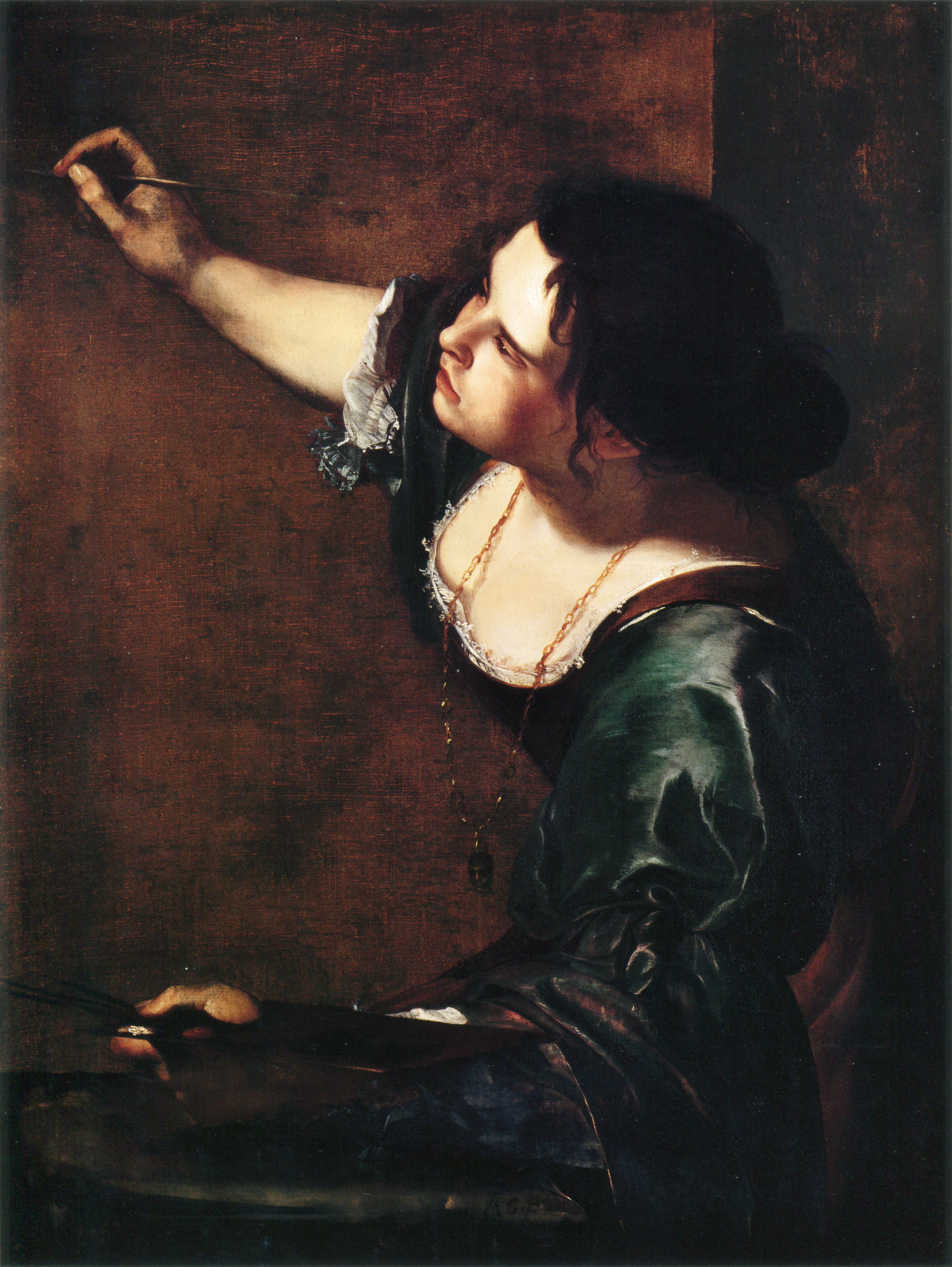 Artemisia Gentileschi, Self Portrait as The Allegory of Painting c. 1630, Oil on canvas, 96.5 x 73.7cm

Art World Women takes a look at the Way-Maker artists, the famous women artists in celebration of International Women's Day . We pay homage to the extraordinary women who have paved the road for generations of women to follow. Gabrielle Jones walks us on a brief pilgrimage with Artemisia Gentileschi, so we begin to get a glimpse of the enormous power-house and creative bonfire that burned within this extraordinary artist. A woman who held her course and rose above the tumult to shine beyond the storms of prejudice and tragedy of the times.
Artemisia Gentileschi was the first recorded female artist, having gained admission into the Accademia dell' Arte del Disegno in Florence, and the first woman to earn a living by her brush. She was also the first woman to paint large-scale historical and religious paintings and the only female artist to adopt Caravaggism (a style imitating advances by the master painter, Carravaggio, involving chiaroscuro lighting directing our attention to the most telling aspects of the paintings; frontal plane drama and the realistic observation of the human state, both physical and emotional). Most significantly, she was one of the greatest artists of the Italian Baroque (17th century) as attested by the patronage of the art connoisseur and patron, Cosimo de Medici, the Grand Duke of Tuscany, among others, and the regard of artists and thinkers of the day, including Michelangelo Buonarroti the Younger (son of  the creator of "David")  and Galileo Galilei with whom she corresponded by letter for a long time.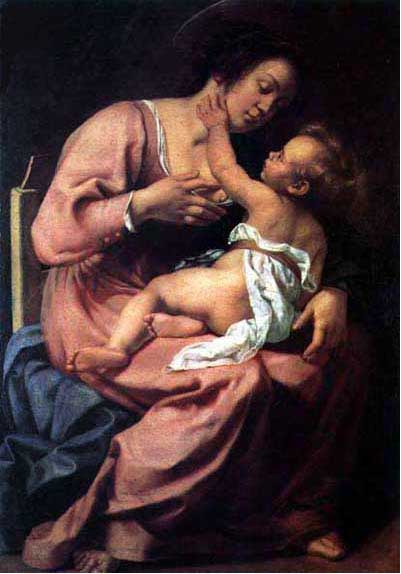 She is also a controversial historical figure whose skill as an artist has been re-defined and rewritten in many tomes depending on the prevailing social mores of the authors, cast as everything from a shrewd artist taking advantage of her fame from a rape trial (explained later) to cater to a niche market in sexually-charged, female-dominant art for male patrons; to a victim who turned her experience into expressions of female vengeance. What is certain and unfortunately, common for female artists until the late 20th Century, is that critics for centuries doubted the attribution of the paintings not corresponding to a described model for female artists (allocating these to her father after her death, for example, Madonna and Child c. 1609) and gave an inferior value to the ones not found on the cliché. It is only in the late 20th Century that Gentileschi has been awarded her rightful place in history as an extraordinarily talented, intelligent and determined artist.
Gentileschi was born in Rome on July 8, 1593 and lost her mother when she was 12 years old, developing a close relationship with her father/artist Orazio Gentileschi (responsible for important commissions in Fabriano and Genoa, before moving to Paris to the court of Marie de Medici) assisting and learning painting from him. Artemisia was reportedly raped at the age of 17 by one of her father's colleagues, Agostino Tassi, hired to tutor Artemisia in painting and later proven to have raped or had incest with a number of women both before and after Artemisia. The two continued to have sexual relations, Artemisia apparently in the expectation that they would marry. To placate Orazio, Tassi offered to marry Artemisia but was found to already have a wife so Orazio took legal action against him.
The trial took several months, and involved testimony from Artemisia who was subjected to several gynaecological examinations before the judge to ascertain her virginity, and torture using thumbscrews to verify her testimony. The judgement was that Tassi should be exiled (or imprisoned, depending on which account you read) but the order was never enforced. After the trial, her father arranged a marriage to another lesser painter, Pietro Stiattesi, and the couple then moved to Florence, where Artemisia gave birth to two daughters over a period of time.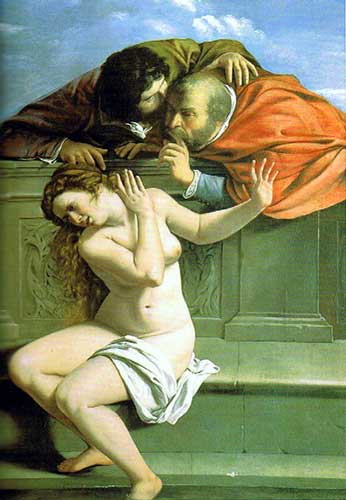 Besides the physical abuse, Artemisia was publicly humiliated being labelled sexually immoral, although this may also have made her more resistant to public opinion about what was an acceptable occupation – and even artistic subject- for women to pursue. Shunning the gentle domestic scenes and still life genre paintings which were the more conventional – and perhaps, unchallenging-  pursuit of artistic women, Gentileschi plunged into large scale historical, mythical, biblical and figurative paintings, evincing typical baroque subjects that explored individual human beings in moments of decision and dramatic scenes of danger and tension. These were rendered in realistic and sometimes, violent, portrayals of energetic scenes, often involving strong or suffering women characters, willing to manifest their rebellion against their condition.
Her first signed and dated painting, Susanna and the Elders, 1610, was executed at about the same age as her Rape, and depicted a woman tormented by two elders who falsely accused her of adultery after she rejects them.
The story of Judith appeared a number of times in her art. Somewhere between 1614 and 1620, Gentileschi completed , Judith Slaying Holofernes, which shows a close-up of this brutal scen – Judith slicing Holofernes's throat while her handmaiden helps to hold him down. Gentileschi must have learned a thing or two from Galileo, since the depiction of blood squirting is in accordance with his discovery of the parabolic path of projectiles.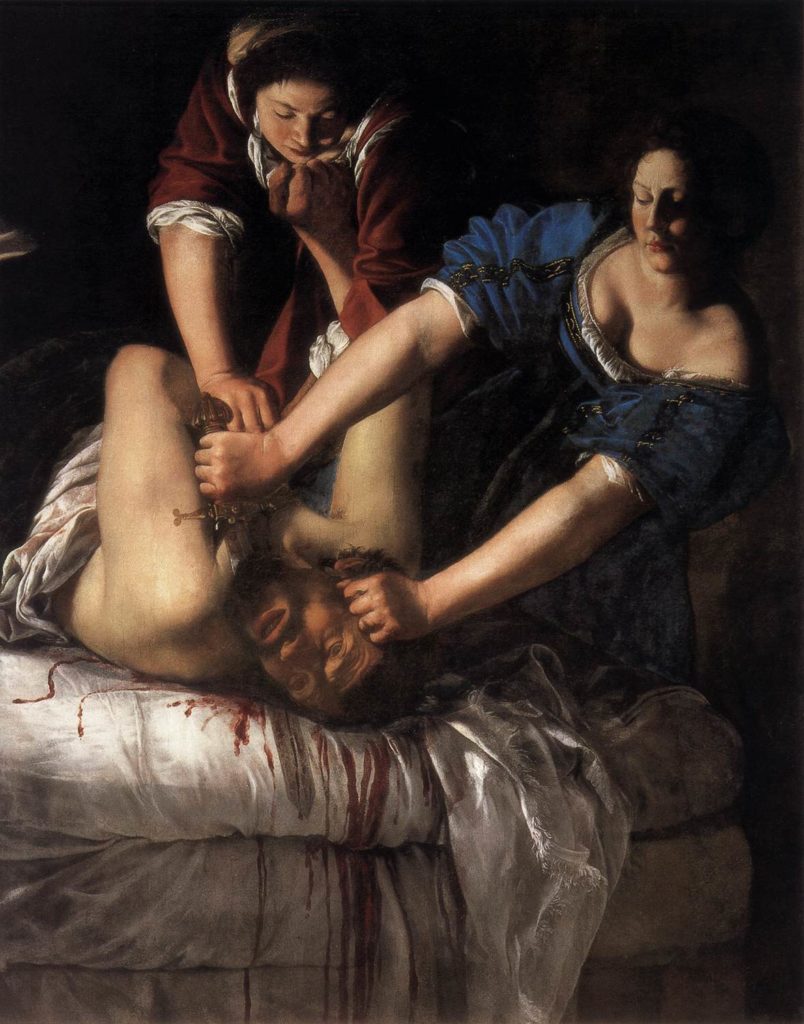 Soon after finishing this work, Gentileschi painted Judith and her Maidservant, which shows the pair after Holofernes's death, with the maid holding a basket containing his severed head.
Gentileschi also tackled other well-known figures from history and mythology with such works as Minerva (1615) and Cleopatra (1621-22). As a woman artist, she had one advantage over her male counterparts because she could learn from live nude female models. thus, her paintings of Susannah and Cleopatra were rare for the period.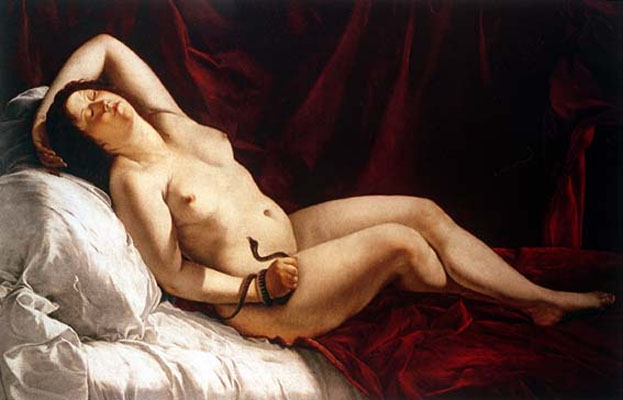 After living in Florence for several years, Gentileschi spent time in Genoa and Venice. By 1630, Gentileschi had settled in Naples and a short time later, in 1635, she completed another religious-themed work, The Birth of St. John the Baptist.
Around 1639, Gentileschi travelled to England to work with her father who had been commissioned by Queen Henrietta Maria, wife of King Charles I, to create a series of paintings for her home in Greenwich. However, Charles I convoked Artemisia to his court –he was a fanatical collector, willing to ruin public finances to follow his artistic wishes. The fame of Artemisia probably intrigued him, and it is not a coincidence that his collection included the painting of great suggestion, Self-portrait as the Allegory of Painting. (shown above)
She left England in 1642 and was in Naples again by 1649 and still accepting Commissions in 1653. Not much is written about her work during this time, but it is known that Artemisia changed styles according to the tastes and styles of the provinces to which she travelled (perhaps due to the financial necessity of supporting herself).
She died sometime after 1654 in Naples, Italy (although various reports date this at 1652 onwards) and possibly in the devastating plague that swept Naples in 1656 and virtually wiped out an entire generation of Neapolitan artists.
During her lifetime, Gentileschi managed to do thrive in a male-dominated field as a woman, to turn adversity to her benefit, and become an inspiration, not only for her powerful artwork, but for her ability to overcome the limits and prejudices of her time.
Gentileschi became a contemporary household name with the making of the Golden Globe nominated movie "Artemisia"  directed by Agnes Merlet in 1997 . (author's note: I give it 7.5 stars – you can find details here -whttp://www.imdb.com/title/tt0123385/)
You can also see a documentary here: Artemesia Gentileschi (music is a little too loud but information and visuals are good), or read a novel about her by Alexandra Lapierre (English Translation 2002) or by Susan Vreeland's The Passion of Artemisia , 2002.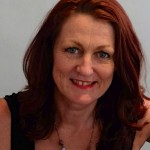 is a painter, writer and Creative Director/Tutor at Art Class Sydney, having exhibited in eleven solo shows in three states and at the Goulburn Regional Gallery. She has been appointed "Artist in Residence" in four countries including Spain and Canada. Her work was recently acquired by Muswellbrook Regional Gallery and is held in Australian and International public and private collections.
---
---